Premier Parry featured speaker at 5th Consultation on the Economy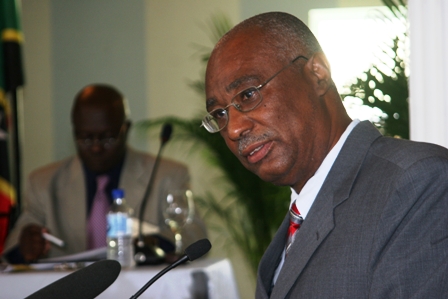 Charlestown, Nevis–(Thursday, August 25th, 2011)
Nevis Premier the Hon. Joseph Parry, will give the Feature Address at the 5th annual Consultation on the Economy on Tuesday, September 6th. The conference will be hosted by the Ministry of Finance in the Nevis Island Administration at the Four Seasons Resort.
According to Hon. Joseph Parry, he will outline his policy to engender financial growth for Nevis' future and he has extended an invitation to members of the private and public sectors.
"All the major players in the private and public sector are invited to participate in this consultation and give food for thought on the island's prospective financial outlook," commented Premier Parry.
Meanwhile, Budget Director in the Ministry of Finance, Ms. Karen Hobson, said the event will run from 9am-5pm under the theme "Accelerating Economic Diversity and Productivity in an Environment of Fiscal Prudence".
"Nevis has received some recovery since the re opening of the Four Seasons Resort, yet there has to be a serious look at diversification of the island's fiscal growth. One way of achieving this is by looking at alternatives for increased economic activity on Nevis," said Miss Hobson.
The opening ceremony would see a private sector prospective on the Conference theme and the way forward. The first segment will be followed by four panel discussions. A presentation entitled "Economic Diversification and productivity" will be delivered by Professor of Economics – St. Georges University, Grenada- Dr. Kelvin Sandiford,
It will be followed by another presentation delivered by Mr. Rodney Taylor of the Caribbean Telecommunication Union on "Harnessing Information Technology as an enabler of Diversity and Productivity".
The topic, "Speaking to the importance of operating in an environment of fiscal prudence and Debt Management" will be discussed by Eastern Caribbean Central Bank's (ECCB) -Ms. Juliette Jeffers.
The last session of the Conference would look at the issue of "Geothermal" and that discussion would feature OAS representative from Washington D.C, Mr. Mark Lambrides.
Ms Hobson also noted that the opening ceremony will be streamed live and interested persons can view the Consultation at www.nia.gov.kn.