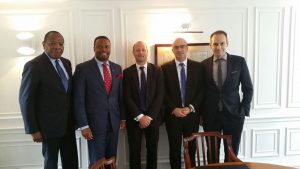 NIA CHARLESTOWN NEVIS (JULY 15, 2015) — The following is a press release from the Ministry of Foreign Affairs in St. Kitts and Nevis
Foreign Minister of St. Kitts and Nevis, the Honourable Mark A.G. Brantley who arrived in London on Sunday, yesterday took part in a number of meetings with potential investors. These included discussions on investments in high-end tourism development, hospitality services and manufacturing.
Asked to outline the reasons behind his visit, Mr Brantley said, "firstly, as the new Foreign Minister, I thought it was important to come here to engage the High Commission, to clarify the agenda and priorities of the new Administration. It was important also to discuss and to rationalise going forward what we expect in terms of our efforts to build greater partnerships and relationships to benefit the citizens of St. Kitts and Nevis.