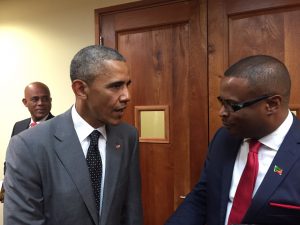 NIA CHARLESTOWN NEVIS (APRIL 10, 2015) –Minister of Foreign Affairs and Deputy Premier of Nevis Hon. Mark Brantley described the just concluded US-CARICOM (Caribbean Community) Summit in Jamaica as an excellent meeting which lay the platform for closer dialogue with the Caribbean's largest neighbour, the United States of America.
Mr. Brantley made the comment when he spoke to the Department of Information on April 10, 2015, as part of a delegation headed by Prime Minister Hon. Dr. Timothy Harris.
He noted that Dr. Harris made a timely intervention which indicated the need for an established mechanism that would ensure greater dialogue and a more effective way of implementing decisions taken to certify that the actions taken and the benefits from those actions would be for the peoples of the Caribbean.