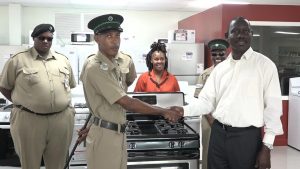 NIA CHARLESTOWN NEVIS (JULY 28, 2017) — The Ministry of Tourism in the Nevis Island Administration (NIA)'s gift of a new 30inch Frigidaire gas stove, to officers of the Prison Farm on Nevis, will help to better their living conditions. It will also assist them in carrying out their duties more comfortably.
Principal Officer at the facility Desmond Morton, made the comment as he thanked the ministry at a handing over ceremony at Horsford's Nevis Furniture and Appliances store on July 26, 2017.
"On behalf of the Superintendent of Prisons, staff and members of the Prison Farm, we would like to take this opportunity to thank the Ministry of Tourism, in particular, for this kind gesture…and assure Mr. Hanley, that this gift will go a long way," he said.