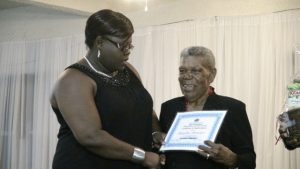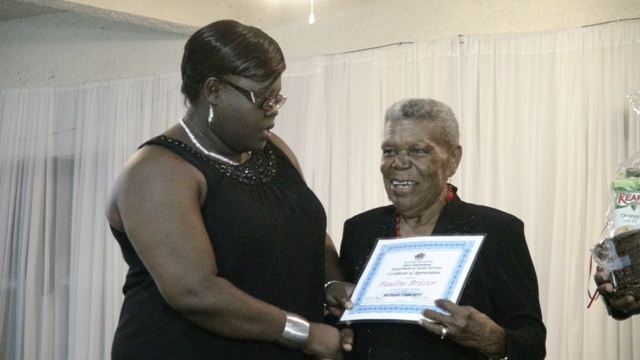 NIA CHARLESTOWN NEVIS (OCTOBER 29, 2015) — Junior Minister in the Ministry of Social Development Hon. Hazel Brandy-Williams lauded honourees at the 3rdAnnual Seniors Gala and Awards Ceremony for what she described as their outstanding contributions to the development of the island of Nevis.
The event was hosted by the Ministry of Social Development's Department of Social Services' Seniors Division at the Occasions Conference Centre on October 27, 2015. The theme was "Nothing for us without us."
"Through your dedication to serve, protect and preserve this our beloved land we the younger generation have a solid foundation on which we can continue to build. As trailblazers, I wish to salute you and say thanks for a job well done," she said.
The honourees were Mr. Winston Hanley, Mrs. Florence "Ella" Merchant, Ms. Lorna Doras, Mrs. Pauline Brister and Nurse Myrna Webbe. The Award for Worker of the Year 2015 in the Seniors' Division was presented to Glorita Vaughn while awards for Nevis Seniors Fun and Action Games 2015 Top Male and Female participants were presented to Charles Othello and Sarah Browne, respectively.