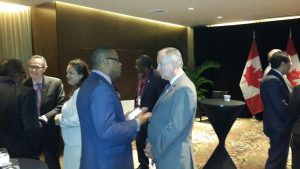 NIA CHARLESTOWN NEVIS (April 13, 2015) — Foreign Affairs Minister of St. Kitts and Nevis (SKN) and Deputy Premier of Nevis Hon. Mark Brantley, says a meeting with Foreign Minister of Canada Rob Nicholson drew sharp focus on the issue of Canada's November 2014 revocation of visa free travel for the people of St. Kitts and Nevis.

In a report given to the Department of Information late Friday, April10, 2015, Mr. Brantley who is attending the Summit of the Americas in Panama as part of a Delegation headed by Prime Minister Hon. Dr. Timothy Harris, stated that the Canadian Minister indicated the desire to hold further, more detailed, talks on the reinstatement of that privilege, at the highest levels of the Canadian government.

Mr. Brantley noted that he also spoke of the Federation's plans which would further enhance the relationship between St. Kitts and Nevis and Canada.

"I advised of St. Kitts Nevis plans to open a full High Commission in Ottawa in the first half of this year and the hope to engage him and his colleagues during the opening.