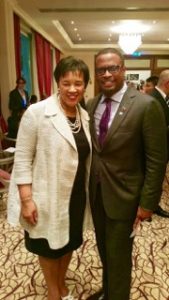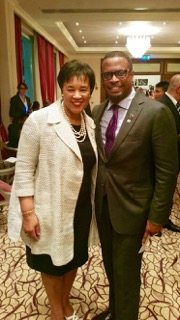 NIA CHARLESTOWN NEVIS (November 28, 2015) — The following is press release from the Ministry of Foreign Affairs issued on November 28th, 2015.
St. Kitts-Nevis Foreign Affairs Minister Hon. Mark Brantley has expressed congratulations to Commonwealth Secretary General-elect H.E. Patricia Scotland PC, QC, Baroness Scotland of Asthal.
Baroness Scotland, a native of Dominica, became the first female to be elected to the auspicious post, obtaining the majority support of the 53-member Commonwealth during yesterday's [November 27] election.
St. Kitts-Nevis' Chief Diplomat, a fellow jurist, lauded the elevation of Baroness Scotland as a major victory for Dominica, the OECS and the wider Caribbean region.
"This woman of the Caribbean is an inspiration to all of us. To have been born a child in Dominica with an Antiguan father and a Dominican mother, taken to the UK by her parents as an immigrant girl of colour, and been able to scale such dizzying heights in Britain, becoming their first black and first female Attorney General and youngest female Queens Counsel in that country's history, says to us all that she embodies the character, intellectual capacity and fortitude which has long defined the Caribbean people."
The crowning achievement will undoubtedly be etched into the annals of Dominican and Caribbean history, serving as an aspirational catalyst for young girls in the Diaspora.