Health is Wealth Seminar for women on Nevis tackles health and gender affairs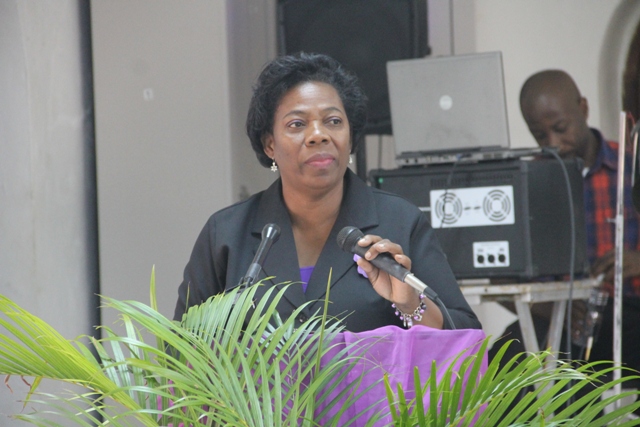 NIA CHARLESTOWN NEVIS (March 08, 2018) – A group of women on Nevis were given the opportunity to learn more about health issues women are faced with at a Health is Wealth for Women and Girls Seminar at the St. Paul's Anglican Church Hall on March 08, 2018.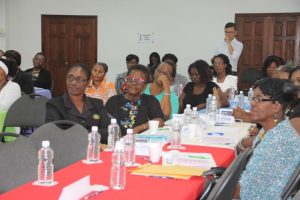 The forum which was hosted by the Department of Gender Affairs in the Ministry of Health and Gender Affairs was a collaborative effort with the Nevis Renal Society in observance of International Women's Day and Kidney Day. The theme was "Press for Progress: Transforming Women's lives".
Ms. Lorraine Archibald, Coordinator of Gender Affairs explained the need for women to have a better understanding of how their bodies work as they p gender equality.
"As we press for progress, it is important that we as women understand our bodies better, especially between the ages of 35 to 65 years. It is a time when we have so many problems with the 'men' – Menstruation and Menopause.
"So, today we are here to learn more, we are here to prevent kidney diseases, learn to cope with menopause, and how to defy aging and age gracefully as we women press for progress," she said.
Ms. Archibald added that based on statistics, the gender gap is widening worldwide. Therefore, as women, along with other girls, they have to have to bring about change, press for progress and transform each other's lives.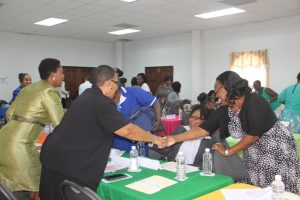 During the seminar, a number of presentations were made on varying health matters. The topic "Love your Kidneys was delivered by Dr. Raymonde Rohan-Moving, Internist at the Alexandra Hospital; "Menopause: What Every Woman should know" by Nurse Evelyn Smithen, Nurse Educator; and "The secret of aging gracefully" by Mr. David Walwyn, Fitness Consultant.
Mrs. Nicole Slack-Liburd, Permanent Secretary in the Ministry of Health and Gender affairs delivered remarks on behalf of Hon. Hazel Brandy-Williams who has responsibility for the ministry.
Other activities planned during the month to mark International Women's Day include "Wear Purple Day" on March 09. On the 10th, a church service will be held at the Mannings Seventh Day Adventist Church and on the 17th a Bike-A-Thon/Walk-A-Thon from the Villa Grounds, through the streets of Charlestown to Pinney's Beach and back is planned.
An International Women's Day Motivational Seminar for Women and Girls will follow on the 20th at the Occasions Entertainment Centre at Pinney's Estate. On March 23, there will be a march through the streets of Charlestown to the Villa Grounds where participants and spectators alike will be treated to live and enriching performances.
To climax the month-long celebration, a Cocktail and Awards Ceremony will be held at the Nevis Performing Arts Centre (NEPAC) on the 29th at which Women in Small Business will be honoured.