Town Hall Meetings to aid in VAT Awareness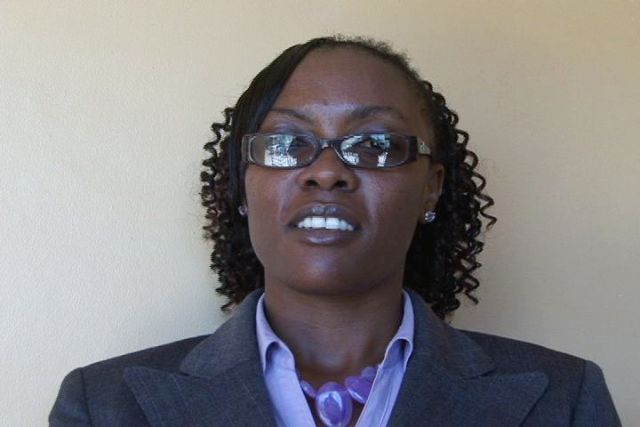 Deputy Team Leader and Public Relations Officer for the Tax Reform Unit, Ms. Kimone Moving.
CHARLESTOWN NEVIS (October 6, 2010) — Infomercials, press releases and presentations all form part of the public awareness campaign that the Tax Reform Unit has embarked upon to sensitize the general public about the federation's value added tax [VAT].
The unit's most recent initiative is a series of two-hour town hall meetings to be held this month. The 7 to 9 p.m. meetings are designed to answer questions and clarify concerns that residents and business owners have about VAT.
The first of the town hall meetings were scheduled for October 4th and 5th at the Gingerland Secondary and Ivor Walters Primary schools respectively. The Charlestown Primary School will be the venue for the meeting on Thursday 7th.
On Monday 11th the information campaign will move to the Nevis Cultural Centre to accommodate persons residing in Charlestown while on Tuesday 12th the St. Thomas' Primary School will be the meeting venue.
Residents of the St. James parish will on Thursday 14th and Monday 18th receive first-hand information about VAT at their meetings at the Violet O. Jeffers Nicholls Primary School and the Brickiln Church of God respectively.
The final town hall meeting will be geared towards educating heavy equipment operators and small business owners and will be held at the Nevis Cultural Centre on Tuesday 19th.
In a recent interview with Deputy Team Leader and Public Relations Officer for the Tax Reform Unit, Ms. Kimone Moving, she highlighted that the VAT registration deadline had been extended to October 11 and encouraged persons to register their businesses at the Inland Revenue Department.
"All those businesses and professionals who are meeting the threshold amounts of $96,000 annually or $150,000 annually are encouraged to register by October 11th.
"If persons have not yet received an advisory visit, a letter would be sent out to that tax payer indicating the guidelines. However, as long as you would have received an advisory visit and you do not register by October 11th then you would be deemed registered by October 11th. So an appeal is being made to businesses who are meeting the threshold to kindly visit us at the Inland Revenue Department to register for VAT," Moving said.
With the November 1 deadline fast approaching, the Tax Reform Unit is ensuring that residents of Nevis are able to receive professional and interactive communication about VAT related issues with the establishment of an official VAT Unit.
The office will be located between the Inland Revenue and Treasury departments in Charlestown.