Women on Nevis urged to take advantage of free cervical cancer screening clinic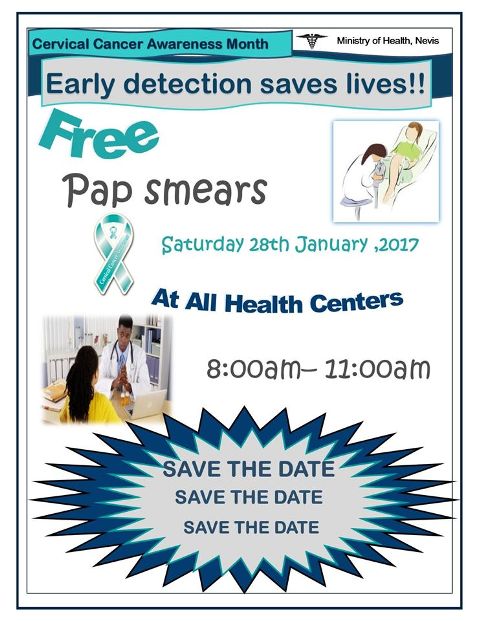 NIA CHARLESTOWN NEVIS (January 27, 2017) — Women on Nevis are being urged by the Ministry of Health through its Community Health Services, to take advantage of free cervical cancer screening clinics on January 28, 2017, at health centres across the island.
The clinic, an initiative of the Ministry, is being held to join in the observance of Cervical Cancer Awareness Month under the theme "Early detection saves lives." The service will be available from 8 to 11 a.m. with free pap smears at the Charlestown, Brown Hill, Gingerland, Butlers, Combermere and Cotton Ground Community Health Centres.
Cervical cancer develops in a woman's cervix and often has no symptoms in its early stage. However, the most common sign is unusual vaginal bleeding after sex, in between periods or after menopause.
While it is possible for women of all ages to develop cervical cancer, the condition mainly affects sexually-active women between the ages of 30-45 years.