Business Personnel Confront Crime with Commissioner Walwyn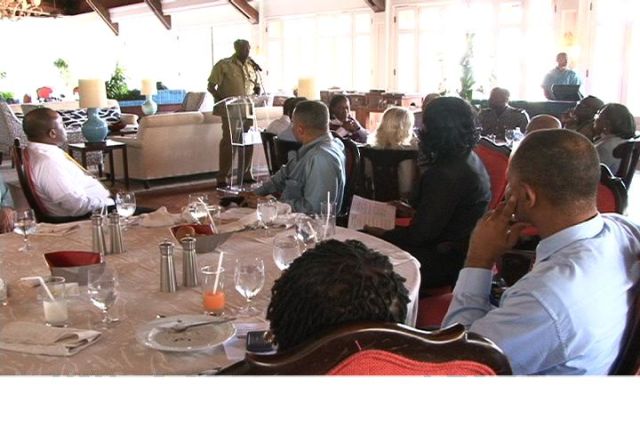 NIA-CHARLESTOWN, NEVIS (November 10th, 2011) — "Confronting Crime and Violence in St. Kitts and Nevis, Plans and Strategies" was the theme that, on Tuesday [Nov. 8], brought together representatives of the financial services sector; attorneys; other business personnel; Nevis' Deputy Premier, the Honourable Hensley Daniel; and Commissioner of Police [C.O.P.] for the Royal St. Christopher and Nevis Police Force, Mr. Celvin G. Walwyn.
The group of local elites had assembled at the Four Seasons Resort for the third quarterly luncheon of the Nevis Division of the St. Kitts-Nevis Chamber of Industry and Commerce [CIC].
While Deputy Premier Daniel represented the island's Premier and Finance Minister, the Honourable Joseph Parry, and was seen taking notes and deeply in tune with the suggestions, it was C.O.P. Walwyn who starred the event.
Following his brief presentation, the Commissioner engaged the audience in an interactive question and answer segment that addressed a number of "areas of concern." Among the issues tabled were improved security at air and sea ports, video surveillance on both islands and a witness protection programme for St. Kitts-Nevis.
The Commissioner noted that although "some people have different opinions," the Nevis-based police officers had been "doing a pretty good job."
"When you sit down and look at the paperwork, you will realise that they are doing a good job over here," he said.
As COP Walwyn responded to Mr. John Yearwood's question about forensics, he noted that "the OECS has a plan in place that is supposed to come on line in January; they said the latest April, that would help them improve some of the forensic shortfalls that we have."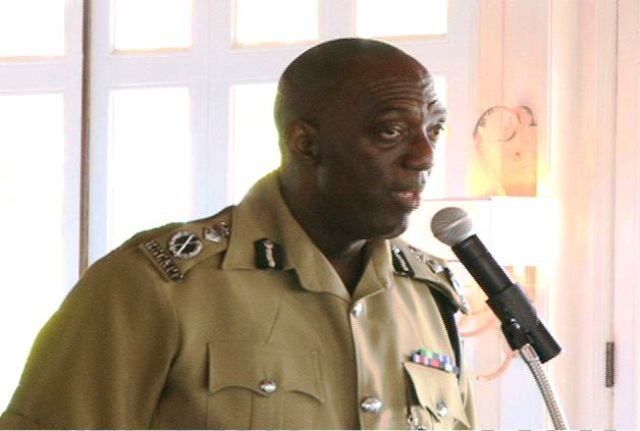 Similarly, Mr. Walwyn noted that "witness protection" was a "major concern" for residents of the twin-island Federation of St. Kitts-Nevis but underpinned his plans to ensure the safety and security of Kittitians and Nevisians, through witness protection.
"We are not the only ones who are experiencing this [problems with witness protection].
"I am in dialogue with a Police Commissioner from a Caribbean island, not close to us, wherein we can send our witnesses to his country and he will house our witnesses for us. Of course we'll have to pay for their food and their housing but he's willing. As long as they have no criminal history like drugs and guns, they would take them there," Mr. Walwyn explained, adding that discussions were also being had with the American Embassy "about starting a [similar] programme within the region."
At one point, the question and answer segment unconsciously shifted to address the budgetary constraints within the Royal St. Christopher and Nevis Police Force as Commissioner Walwyn spoke, with passion, of the initiatives that had already been put in place but had to be stopped due to lack of resources.
"Nevis is ahead of St. Kitts with the Closed Circuit TV," he said, adding that "Nevis already has that system in place but the problem is the price that the internet company is charging."
Commissioner Walwyn, in addition to soliciting a higher level of community involvement, appealed for greater collaboration between the Nevisian business community and the Nevis branch of the Federation's police force.
"If some of you in this room own that [internet] company then perhaps you can reduce your price because the price was really exorbitant," he pleaded.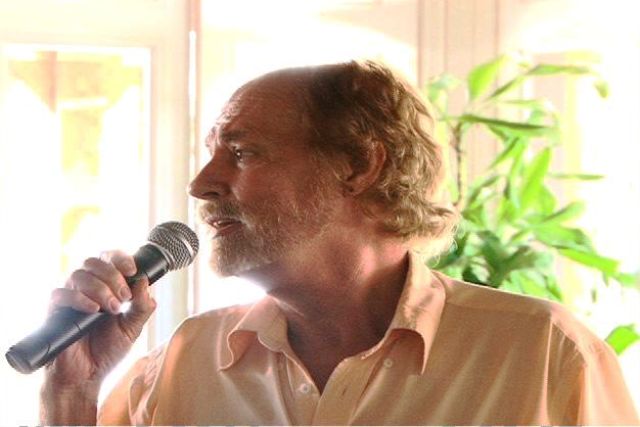 Meantime, without revealing his team's strategies to ensure that more persons were convicted for firearm offences, the Commissioner spoke of an ongoing partnership between the federation's police force and United States-based police agencies.
"We have partnered with the ATF [Bureau of Alcohol, Tobacco, Firearms and Explosives] in the United States and we have a programme which the Superintendent is a part of, which is called eTrace," he said, and further explained the programme's logistics.
"Every gun that we pick up is run through specific procedures and once we can determine where the gun came from in the States, the United States Government picks up the investigation over there and they actively and progressively go after that person and find out who sent it here and that person, if they are in the States, they are arrested," Commissioner Walwyn explained.
The event ended "on a high note" with the delivery of the vote of thanks by Treasurer of the CIC's Nevis Division, Mr. Warren Moving.
Chairman L. Everette Martin and Vice Chairman Ernie France also formed part of the programme lineup as they delivered the event's welcome remarks and introduced the featured speaker respectively.