Nevis to remember its War Veterans with Memorial Service on Sunday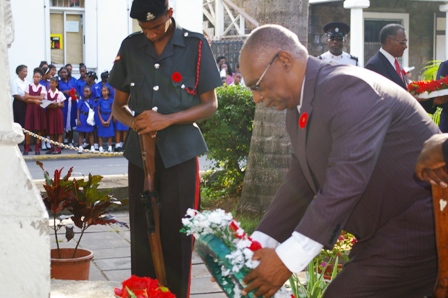 CHARLESTOWN,NEVIS–(Friday, November 11, 2011) Nevis will on Sunday, November 13th remember its nationals who fought and died in World War I and II.
The National Day of Remembrance of those who gave their lives in the wars will be observed with the laying of wreaths at the War Memorial in Charlestown.

At 8 o'clock in the morning, a gun salute will signal the observance of two minutes silence following a rendition of the song, "The Last Post".
Passages will be read from the Bible and prayers will be said. Wreaths will then be laid starting with His Honour, the Deputy Governor General, the Honorable Premier of Nevis, Ex-Servicemen, Superintendent of Police, the Officer Commanding the Cadet Corps and Uniformed Bodies including (Nurses, Red Cross, Scouts, Guides, Girls' Brigade, Pathfinders, School Crossing Guards, Nevis Air and Sea Port Authority, Nevis Sixth Form College, Secondary and Primary Schools students).
The observance will conclude with a march past.