Cox Senior Villager praises Social Development Minister for caring nature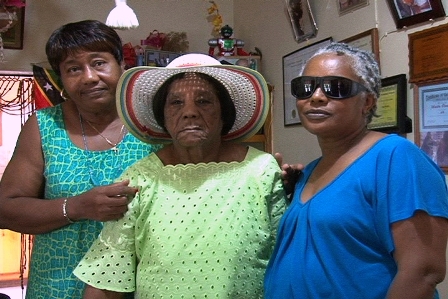 NIA-CHARLESTOWN NEVIS (November 28, 2011) —
A Senior Citizen on Nevis from the Village of Cox could not stop praising Minister of Social Development Hon. Hensley Daniel for his caring nature, as she thanked the Lord for what she described as a precious opportunity to have reached her 95th birthday on November 19th 2011, another milestone in her life.
The accolade came from Mrs. Iris Pinney at her home in the presence of family, friends and fellow villagers, as she acknowledged all who had contributed to her wellbeing over the years including her Creator.

"Praise the Lord, Praise the Lord. I will bless the Lord at all times. His praise shall be continually in my mouth. I thank you Lord this afternoon for this precious opportunity bringing me to this another milestone. Nothing good have I done Lord but you have me here for a purpose and I love you. I love you Jesus from the bottom of my heart for you have done great things and mighty things for me thereof, I am glad…
"Mr. Daniel thank you for him, oh he is caring! He cares for everyone and I ask you Lord to shower your blessing upon him, morning noon and night. Help him to put his own trust and confidence in you, Christ Jesus, for he never fails. I know I pray for him morning noon and night and our prayer going [to be] answered. Keep faithful brother God is on the main line, tell him what you want. He is able to take us through every storm of life if we put our whole trust and confidence in him," she said as she offered Mr. Daniel motherly advice.
A visibly emotional Mrs. Pinney had equally high praise for her family in particular her daughter Ms. Calmeta Pinney who she said had been taking good care of her
"Thank you for my family, my two daughters are here, Calmeta who is here taking good care of me oh she is a blessed daughter, oh she takes very good care of me and I thank you and I ask you to shower your blessing upon her, She and her three children and her two little grandsons cover them with your precious blood this afternoon Jesus," she said.
According to Mrs. Pinney, her family was a loving one that cared for one another and was hopeful that that tradition continued because love she said was of God.
An obviously prayerful Birthday Girl, called on God to continue to bless her family and provide for their every need. She also asked Him to continue to guide them and to keep them on a fiery line.
Nevertheless, she urged her family and close friends to be always prepared, to watch, pray and live a life pleasing to God and asked Him to keep them faithful to the end.
In gratitude she also asked God's blessings on others who had come to celebrate her birthday and asked God to keep her till the end of her days.
"Thank you and God bless you all for coming and ever keep us close on the fiery line, that road that leads to life eternal. Let no one take your crown. Our crown is awaiting us over yonder and when we get there we will sing and shout the victory, no sickness there, no pain there. All will be well.
"I thank the Lord this afternoon for this, another precious opportunity and I ask him to keep me holding on until my life on earth is over. I will hear well done good and faithful servant enter through into the joy of our Lord. Praise the Lord, praise the Lord, praise the Lord thank you Jesus Hallelujah, Hallelujah amen. Thank you Lord Praise him," she said.