Another Senior Citizen acknowledged by Nevis Social Development Minister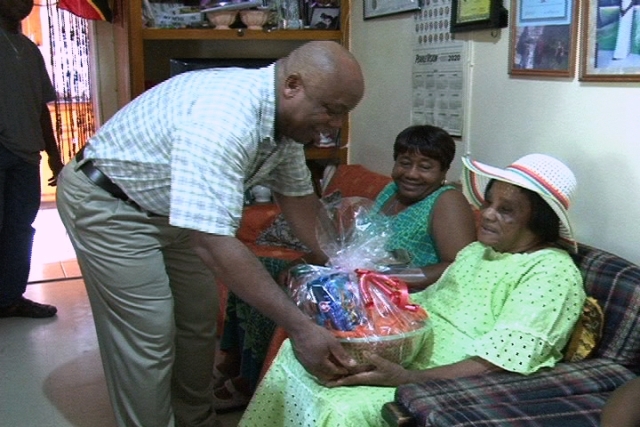 NIA-CHARLESTOWN NEVIS (November 29, 2011) —
Minister charged with the care of Senior Citizens on Nevis Hon. Hensley Daniel, visited another one of Nevis' Elders at her home in Cox Village to personally honour her on the occasion of her 95 birthday on November 19th, 2011.
Mrs. Iris Pinney was one of a growing number of Senior Citizens who have been publicly celebrated by Mr. Daniel, since the Nevis Reformation Party (NRP)-led Nevis Island Administration (NIA) headed by Premier Hon. Joseph Parry first took office in 2006.
Under the Programme which is implemented by the Senior Services Division in the Department of Social Services, Senior Citizens who attain the age of 80, 90 and 100 have been presented with a Certificate of Recognition and a fruit basket personally by the Minister or his representative.
In brief remarks at Mrs. Pinney's birthday celebration, Mr. Daniel who was also raised in Cox, thanked her for "setting the tone" for the village and the discipline and direction she had engender in many villagers in her list of roles as a mother, wife, community care giver, helper, guide and assistant.
"Thank you for setting the tone in our community. The discipline that all of us in this community now demonstrate and exhibit, we have to thank people like Mrs. Pinney for guiding us in those early years and for working with all the other persons who have lived here to help us along the way.
"We think that we owe this to you, for someone who has seen this community from scratch to where now people come to go sightseeing. We [Cox Village] are on the sightseeing listed tour now. With all of that we give credit to you," he said.
The Minister described her as a foundation of the Methodist Church in a Village that was and continued to be predominantly Methodist which he said may have been responsible for the deep rooted religious beliefs, a defining characteristic of Cox.
He spoke of other distinguishing qualities of the area that villagers reminded him of some time ago.
"They also told me that the people here are married and so she [Mrs. Pinney] with her husband Hubert lived many, many, many years together and right through the community, we see several families who have lived many, many years…
"Also the fact that the older people in the community and the younger ones, we show respect for one and other. That has meant that in all my years of working with young people, troubled young people, all of my years of working in Social Services, I have never had to send the Police here to look for anybody in Cox and we attribute that to the role played by the seniors like Mrs. Pinney," he said.
Mr. Daniel told the Birthday Girl that he was particularly proud in his tenure as Minister he was able to provide a proper road for people like her who had reminded him of what obtained in days gone by.
"She reminded me that there was a time when the buses would bring them as far as what we use to call Brown Slab, drop you off and then you would have to walk over all the mud and stones to get to Cox.
"So it is a particular privilege and opportunity for me to have done that so that people like Mrs. Pinney, who is 95 years can walk or drive on a smooth road. That says in all the years that she has lived here, we owe that to her and I am particularly proud of that," he said.
Notwithstanding, the Social Development Minister said he had first celebrated Mrs. Pinney's birthday in his official capacity when she was 90 years and he said he believed she would make it to her 100th birthday. He advised her to take things easy.
"You know Mrs. Pinney in cricket when you reach 95 you don't do anything rash, you just pick up the singles and so 95, 96, 97 and I am sure when we reach that great 100 the celebration will be somewhere else.
"We believe that you have done the things which are good for humanity, the things which are good for all of us and we thank you and we want to record our appreciation for your contribution to making all of us good," he said.
The event was chaired by Permanent Secretary in the Ministry of Social Development and family friend Mr. Alsted Pemberton while fellow villager Mrs. Seneka Pemberton Dias gave brief remarks.