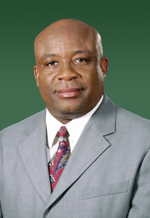 Deputy Premier and Minister of Health, Gender and Social Affairs, Youth and Sports, Community Affairs, Trade and Industry, Culture, Telecommunications and Information.
B.Sc (Hons) Social Work (U.W.I) 1991
Certificate in Education (U.W.I) 1984
Diploma in Spanish Inter-American Language Centre 1981
Profile
Thirteen (13) years experience in the management of Social Programmes.
Excellent communication and organizational skills
Ability to speak, read, write English, French and Spanish fluently
High-energy individual with strong leadership capabilities
Twenty-seven (27) years experience in voluntary and community services.
Relevant Experience & Accomplishments
Successfully established a Foster Care Service and a Probation Service for troubled young people.
Wrote grants and secured funding for social programmes aimed at reducing poverty.
Led the research team on Research on Adolescents in Nevis in 1997

Employment History
2000 – July 2006 Principal Consult – Vision 21 LTD –
– Provided consultancy services and training programmes for private and public sector entities.
2002 – 2004 Program Officer: Family Health International Caribbean Regional Program.
– Responsible for the monitoring and evaluation of
forty-four
(44) HIV/AIDS projects in St Vincent & The Grenadines, St Lucia, St Kitts & Nevis, Trinidad & Tobago and Surinam. Oversaw the development and strengthening of HIV/AIDS Networks in the five countries.

1991 – 1999 Director: Youth and Community Services in Nevis.
– Implemented anti-poverty programmes for
youth
,
women
,
children, and the aged.
– Organised an annual
Youth in Business Exhibition
to promote enterprise among young people.
– Developed a new Welfare Benefits programme for
Women
and
Children
– Worked closely with non-governmental organizations to address poverty among
Youth, Women, and the Aged.
A National Training Programme resulted from this collaboration.

1977 – 1988 High School Teacher
.
– Taught
English, French
and
Spanish
1999 to 2002 – President, Nevis Renal Society
1999 to 2002 – President, Nevis Domino Association
1999 to present – Chairman Education Committee, St John's
Community Improvement Club (S.J.C.I.C.)
1994 to 1997 – Program Director, Nevis Special Olympics
1992 – Chairman, Culturama Committee (Culturama is Nevis' National Festival)
1990-1991 – Chief Executive, Culturama Committee
1986-1988 – Secretary, Board of Directors, Nevis Cooperative Credit Union
1986-1988 – Member, National Executive Nevis Youth Council
1977-1988 – Co-ordinator, Adult Education Program of the St Johns Community Improvement Club.
1985-1986 – Project Manager St John's Community Centre Construction.
1984-1987 – President, St John's Community Improvement Club.
1979-1982 – Treasurer, Nevis Amateur Athletic Association
1979-1982 – President, St John's Community Improvement Club
Honours and Awards
Man of the Year, Nevis – Leeward Times 1999
Top Student University of the West Indies Year I Social Work 1989
St Kitts & Nevis Independence Award 1988 for Outstanding work in Youth & Community Development.
Teacher Excellence Award – 1988
Nevis Youth of the Year – 1986
Born Hensley Edmeston Daniel to Doris and Cornelius Daniel in 1959 in humble circumstances in the beautiful village of Cox, Hensley Daniel is known to all and sundry as a man committed to the improvement of his society. In his spare time, Hensley enjoys spending time with his family, cooking, reading and socializing.