Minister Hector praised for his critical role in the Fisheries Complex refurbishment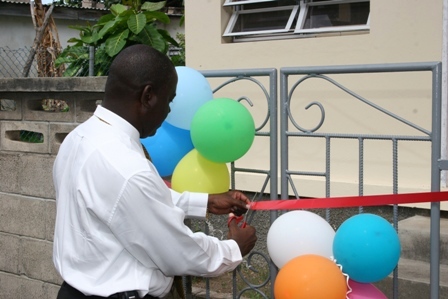 Minister of Agriculture in the Nevis Island Administration (NIA) Hon. Robelto Hector, received high commendations from other officials for his instrumentality in the refurbishment of the Nevis Fishermen Marketing and Supply Cooperative Society Limited.
This came at the Cooperative's opening ceremony on Tuesday July 29, 2008, under a tent setup for the occasion at Market Street in Charlestown.
 
Minister Hector, who spoke at the ceremony, recorded the NIA's commitment to the fishing industry on Nevis.
 
"As a government, we are focused on increasing income of our fishermen.  We are determined to increase employment in the sector, so too we seek to achieve greater consistency of our fish supply and better quality.  We also seek to strengthen our export potential," Minister Hector 
Minister Hector takes a look at a package of fish at the Fisheries Complex
said.
 
The Minister also appealed to the fishermen and the general public, by extension, to offer support to the Cooperative and its efforts.
 
"As a sector directly related to the tourism product, we are committed to ensure that the correct synergy exists.  I call on you as food providers to rise to the challenge of ensuring that Nevisians are fed.  I call on you to continue to assist in ensuring our food security.  I must say to you fellow fishers, your trade represents one of the oldest professions.  It is a profession we are proud of and we want you to continue to feel that pride," he said.
 
The Minister seized the opportunity to highlight a number of additions that are expected to be initiated shortly.
 
 
Director of Cooperatives on Nevis Mr. Samuel Powell
We are swiftly moving to have with the help of the Japanese a new and improved facility here in Charlestown.  Under this project, greater support will be given to our fishing community.  Under this project there will be support for better training opportunities, training to ensure that you're applying techniques that promote sustainable harvesting.  Under this same project storage and locker facility would be provided.  We would seek to upgrade the landing facilities and ensure a more improved hygienic, processing facility.  We are also to strive to maintain standards that are as high as developing countries," Minister Hector said.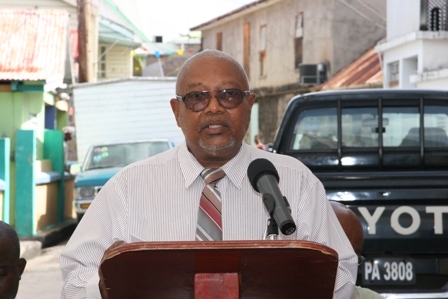 Meantime, Director of Cooperatives on Nevis Mr. Samuel Powell spoke of Minister Hector's instrumentality to the project.
 
"Minister Hector was approached for assistance and through his instrumentality the certificate of 
President of the Nevis Fishermen Marketing and Supply Cooperative Mr. Emmanuel Richards
title for the land on which the fisheries complex has been constructed, in addition to a grant of EC $75 000, was given to the Nevis Fishermen Marketing and Supply Cooperative Society Limited by the Nevis Island Administration.  This grant was administered by the Ministry of Agriculture," Mr. Powell said.
 
He also urged the support of the fishermen to partner with the Cooperative.
 
"I appeal to the fishers and to the members of the Cooperative to support the Nevis Fishermen Marketing and Supply Cooperative Society.  Paying your registration fee is not enough, you have to be involved in economic activity with the Cooperative, for it is by means of your track record with the cooperative that you will be able to get benefits," Mr. Powell said.
 
President of the Nevis Fishermen Marketing and Supply Cooperative Mr. Emmanuel Richards spoke of the improvements made to the Cooperative.
 
"The money spent by the Ministry of Agriculture include the purchasing of two freezers, fans, tiles for the floor, payment, painting and renovation for the water pipes and toilet, an air-condition unit, a processing room, the building of the secretary cashier's office, a computer system and other items," he said