Nevis receives new garbage truck from the Social Security Board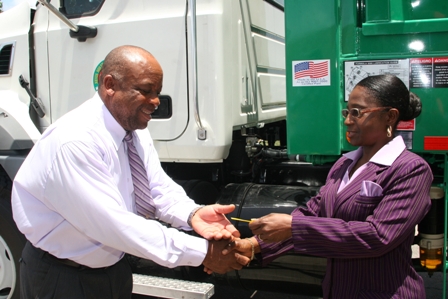 The Ministry of Health has an interest and a responsibility to ensure that workers are healthy so that when workers are healthy they will work and by working they will contribute to Social Security so this is in a way an investment in the workers of the country to ensure that they remain healthy because we want to make sure that  
   Minister of Health Hon. Hensley Daniel at the controls of the new garbage truck
garbage is properly disposed off and in addition to that they have an interest in the aesthetic beauty of the country.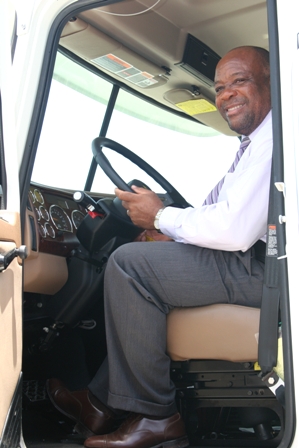 "If the country is beautiful the visitors [will] come. The people who work in tourism they will get more work and they will contribute to Social Security. So I want to thank them for being in that philosophical mindset. This is not something that is Social Security over here and health over there but Social Security and Health are intertwined," he said.
 
The Minister also made the point that in Third World countries  contributions of that nature were often referred to as gifts but they were not because they were derived from workers contributions therefore they should be maintained and should be treated as though they were personal.
 
Mr. Daniel explained that the Nevis Island Administration through the Ministry of Health did not approach an overseas friendly country for funds to purchase the truck but instead sought to forge a long and fruitful partnership with the Social Security Board.
 
"What we have done is to seek to build a partnership with Social Security to see if we can do things locally and I am particularly happy that in 1978 when Social Security started I was just about beginning to work with the public service and there was so much opposition to Social Security because nobody wanted their contribution to come out.
 
 "I think more than anything, the institution [Social Security] has demonstrated its commitment to the public. We can look around and see investments in housing, we see investment in education through scholarships and now of course as the Minister of Health, I have to make sure they tip the balance to health as well and so we look forward to a long and productive relationship with Social Security," he said. 
 
 
The new garbage truck donated to the people of Nevis by the St. Christopher and Nevis Social Security Board
Chairman of the Social Security Board Mr. Halva Hendrickson said the funding came from part of the institution's annual contribution which was made to both Nevis and St. Kitts in the health services and it was their way of giving back to the people.
 
Mr. Hendrickson also noted that St. Kitts had faced a similar problem where the garbage trucks had gone bad and private persons had been hired to collect garbage. Nonetheless, he said Nevis was ahead in their request for a new garbage truck.
 
"In fact in St. Kitts we have a similar problem where our garbage trucks have gone bad and they had to hire some private people but they have not come to us yet but it looks as though Nevis is more on the ball because Nevis is now here [ahead] and they have their garbage truck.
 
"I suppose what will happen in the end, is that somebody might have to come and say just as 
(L-R) Mr. Ron Daniel, Mr. Halva Hendrickson, Ms. Hope Merchant, Mrs. Joslyn Liburd, Ms. Carlyn Lawrence, Minister of Health Hon. Hensley Daniel, Mrs. Sephlin Lawrence, His Excellency Mr. Steve Rensford, Mr. Elvin Bailey and Mr. Vernel Powell with the new garbage truck in the background
Nevis has cleared the way St. Kitts will have to clear the way and follow. So we are very happy to be here and we expect that this truck will be used for the benefit of the people of Nevis," he said.
 
Meantime, while she thanked Mr. Daniel and the Social Security board for the new garbage truck, Ms. Carlyn Lawrence Director of the Nevis Solid Waste Management Authority explained that unlike the previous garbage trucks, the new one had had a greater capacity to meet the needs of a growing island.
 
"Waste management is a new thing for us on these small islands. It's a progression into keeping up with the latest technology and the latest equipment available and so we are very happy to have the truck and we want to say thank you and give you our assurance that we will do everything that we can to take good care of it and keep it going for as many years as we can keep it going for.
 
"We got this truck because we needed the size, the island is growing and there is expansion everyday. It [the truck] has the capacity of containing 25 yards of waste [because of its] compaction. So it can clean an entire parish without having to make a second trip. We are going to ensure that responsible people drive it and that we take good care of what has been offered to us," she said.
 
The ceremony was chaired by Permanent Secretary in the Ministry of Health and Chairman of the Nevis Solid Waste Management Authority Mrs. Joslyn Liburd, Deputy Chairman of the St. Christopher and Nevis Social Security Board His Excellency Mr. Steve Rensford, Assistant Directors (Nevis) Mr. Elvin Bailey and Mr. Vernel Powell and Members of the Nevis Solid Waste Management Authority Board Ms. Hope Merchant and Mr. Ron Daniel.