Nevis Ministry of Agriculture launches hurricane relief project for farmers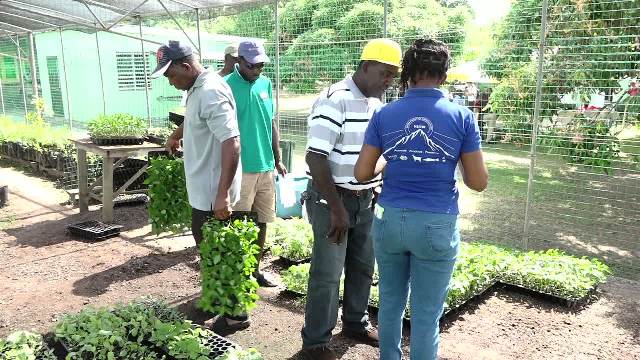 NIA CHARLESTOWN NEVIS (December 12, 2017) — Farmers on Nevis have begun receiving from 80,000 seedlings, as part of the Ministry of Agriculture's 20k Project, a hurricane relief initiative for farmers conceptualised by the Department of Agriculture.
The project, which is a collaboration between the Ministry of Agriculture in the Nevis Island Administration (NIA), the Taiwanese Mission, the Inter-American Institute for Cooperation on Agriculture (IICA), the Caribbean Agricultural Research and Development Institute (CARDI) TDC and Tropical Blossoms Nursery; was launched at the Prospect Experimental Station on December 06, 2017.
Mr. Randy Elliott, Director of the Department of Agriculture said the project was developed following the passage of hurricanes Irma and Maria in September. It is designed to ensure food security on the island and to reduce dependence on imported produce.
The seedlings which comprise of tomatoes, lettuce, sweet peppers, cabbage, melons, honey dew, cantaloupe, squash, and cucumbers will be disbursed to farmers in batches of 20,000 per month. In addition, fertilizers and poultry feed will also be made available to them.
Hon. Alexis Jeffers, Minister of Agriculture on Nevis, said through the project, the farmers would be better off because of the assistance from allied agencies for the project and the NIA's $50,000 contribution.
He thanked all those who partnered to make the project a reality but used the opportunity to single out Mr. Augustine Merchant, IICA's Local Representative in St. Kitts and Nevis for his unwavering assistance to agricultural development on Nevis.
The Agriculture Minister also thanked the Republic of China (Taiwan) for its contribution to the project and their long-standing assistance to the Ministry and Department of Agriculture.
He said in addition they would be providing two new tractors to assist farmers with land preparation and two pick-up trucks to assist with the transportation of workers to the various government-owned fields.
Mr. Jeffers attributed the strides made in agriculture in the past five years on Nevis to the strong relationship the ministry developed with the allied agencies.
Mr. John King, Regional Representative for IICA, congratulated the ministry for establishing the project. He said his organisation is pleased to support it, is committed to improving the agricultural sector on Nevis and strengthening the institution within the agriculture sector on the island.
Other remarks were made by Mr. Huey Sargeant, Permanent Secretary in the Ministry of Agriculture, Mr. Yu-Ming Lu, and Project Manager at the Taiwan Technical Mission. The opening prayer and vote of thanks were done by farmer, Mrs. Eglantine Hanley and Mrs. Emontine Thompson.