Nevis Farmers urged to take advantage of new nearby markets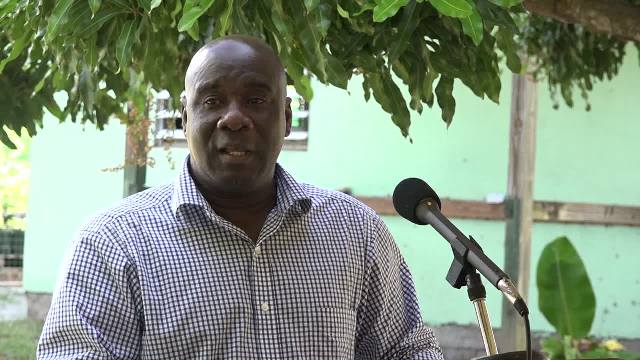 NIA CHARLESTOWN NEVIS (December 12, 2017) — Farmers on Nevis are being urged to take advantage of markets opening up in close proximity to the island.
The call was made by Hon. Alexis Jeffers as he delivered remarks on December 06, 2017, at a ceremony to launch the Ministry and Department of Agriculture's 20K Project, a Hurricane Relief initiative, with assistance from allied agencies that provides a variety of seedlings to farmers over a four-month period.
"I want to say to you as well to our farmers, there are markets opening up all around us, like the Park Hyatt St. Kitts that is in close proximity to Nevis… I believe they have come in the past to see what we are doing at our Abattoir, at out Agro Processing Unit and also at our Marketing Division.
"I want our farmers to be assured that your products will find a market and we are going to provide the framework and the necessary assistance for you to ensure that your products are sold whether here on Nevis or on the island of St. Kitts, so I want you to go and farm. Do the work…I want the farmers to utilise the land that you have," he said.
Mr. Jeffers also told the farmers that they could seek whatever assistance from the extension officers and by extension the department.
"Kindly lean on the Department of Agriculture for any assistance that you need. I believe we have the necessary things in place to tap into the various areas where we can find tools, implements, fertilizers and all of the other things that are needed to make sure that you are on your way to production," he said.
The Agriculture Minister expressed hope that there would be an abundance of fruits and vegetables moving forward in an effort to reduce the food import bill even though the Ministry has already seen some progress in that regard.
He stated that, at the moment, the demand for pumpkins and watermelons is satisfied locally and there is a reduction in the importation of tomatoes and onions.
Mr. Jeffers said he expects to see the trend continue in years to come with self-sufficiency in several other crops grown on the island.