Nevis Tourism Authority Head challenges Windward Island Airways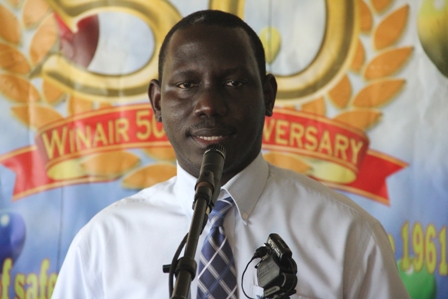 NIA-CHARLESTOWN NEVIS (October 05, 2011) – Chief Executive Officer (CEO) of the Nevis Tourism Authority (NTA) Mr. John Hanley challenged Windward Island Airways (Winair) to find a way to offer its passengers lower fares, to help stimulate travel demand.
He was at the time delivering remarks at a reception hosted by the airline recently in celebration of its 50th anniversary. He said though the airline had accomplished much over its 50 years, it was important for them to do even better than before.
"I challenge Winair to do all in its power to improve vital customer service excellence. I challenge Winair to continue to recognise the importance of punctuality and reliability while flying your deserving and discriminating passengers. I challenge Winair to be better corporate citizens by partnering with social and humanitarian causes in the five destinations it serves.
"I dare say that only when Winair is in a position to arise to the occasion and address these critical challenges that I have just mentioned, then and only then will they have the fortitude and competitive advantage which will ensure their survival in these difficult times," he said.
While Mr. Hanley congratulated the Airline on its milestone, he registered hope that they would continue to provide an air bridge to St. Maarten for Nevisians and their guests for many years to come.
He said Winair had been important to Nevis over the past 30 years and adequate air connectivity was one of the most critical factors affecting the survival of the destination and the island's tourism industry.
"Winair has been providing a high level of convenience to our locals and tourists alike, with direct connection to St. Maarten for shopping, for onward connections with over a dozen major airlines servicing North America, Latin America as well as Europe.
"Winair's service has, for the most part, been reliable and punctual. Considering the fact that Winair flies to some of the smallest and most difficult little airports in the world, the airline must be very highly commended for its impeccable safety record," he said.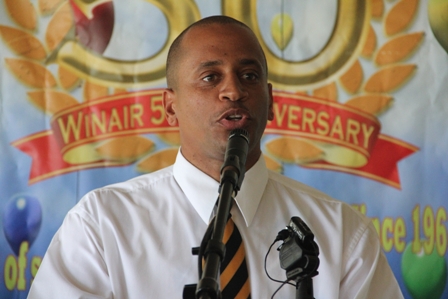 Meantime, General Manager of the Airport at Newcastle Mr. Steven Hanley in brief remarks also noted the travelling public's confidence in the airline over its 50-year and its exemplary safety record.
"As history shows Winair has proven their track record in safety. In the golden year of their existence, this remarkable airline has also demonstrated that no horizon is so far that it cannot be attained," he said.
The Airport Manager explained that his association with Winair had spanned 22 years so far, first as a passenger then as an air traffic controller and now as airport manager.
He noted that the fact that the airline had survived the test of time, the uncertainty of passenger traffic numbers, administrative changes and challenges and modifications to schedules and destinations was testament to its resilience and its core staff.
However, Mr. Hanley also issued a challenge to Winair as it entered its 51st year of operations and another to Nevisians.
"Continue to be the faithful bridge over the waters between Nevis and St. Maarten and the other Netherland Antilles. Equally I challenge the Nevis public; let us repay the faithfulness of this airline with our continued support – Fly Winair," he said.
Winair celebrated its 50th anniversary with a reception at each of its destinations.