October Filled with Observances…Health Minister Promotes Mental Health Awareness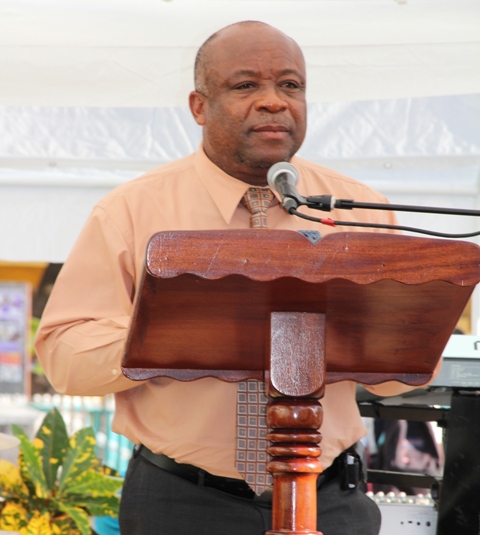 NIA-CHARLESTOWN, NEVIS (October 12TH, 2011) — Nevis' Deputy Premier, the Honourable Hensley Daniel, is this month [October], demonstrating his commitment towards the health of Nevisians: the young, middle-aged and elderly.
Minister Daniel has stretched his ministerial hand to embrace the observance of Breast Cancer Awareness Month, International Month of Older Persons and Mental Health Week while showing support to colleague ministers, Joseph Parry and E. Robelto Hector as their ministries observe Teachers' Month and World Food Day.
During a recently aired address on Nevis Television's channel eight, the Health Minister challenged Nevisians to ensure they have "good physical health, [they] engage in satisfactory social relations, demonstrate positive feelings of self worth, [have] a [positive] philosophy of life, possess the insight to evaluate one's own behaviour and [possess] the ability to adopt to change."
The tips, according to Minister Daniel, may be useful in maintaining "an acceptable level of mental health."
Although pleased with the work of Nevis' Mental Health Association, whose efforts were defined as "untiring," Mr. Daniel said there was need for [the community to demonstrate] "greater sensitivity to persons who are mentally ill."
"In a small society with so many persons related by blood, we are all at risk.
"The mentally is our cousin, our sister, our friend, our brother, our uncle, our aunt so let us treat them accordingly," he said.
Realising the significance of this year's theme, "The Great Push: Investing in Mental Health," the Health Minister outlined the need to engage in "positive activities" that, according to him, "promote and sustain good mental health."
"Poor mental health often results from the inability to cope effectively with stress. As such, we should try to so organise our lives to reduce the level of stress and, in some cases, practise avoidance therapy on which we avoid stresses or stressful situations," Minister Daniel said.
Mental Health Day was observed, worldwide, on October 10th. The Mental Health Association on Nevis hosted activities during its Oct. 3rd to 10th observance week. Among the activities was an island tour on Oct. 6th which was followed by a picnic for mental health clients.