Antioch Baptist Academy Pre-Schoolers bring Christmas cheer to Nevis; visit Premier Brantley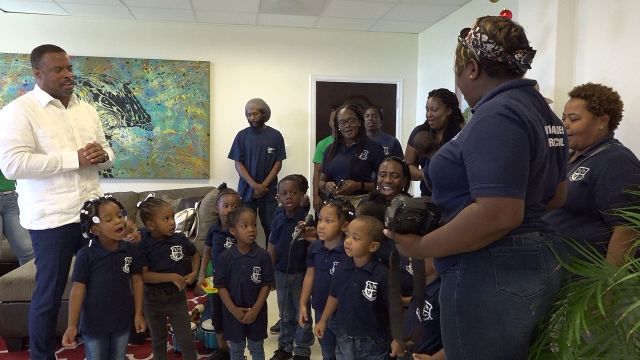 NIA CHARLESTOWN NEVIS (November 30, 2018) — Students from the Antioch Baptist Academy Pre-School in St. Kitts, brought some Christmas cheer to Hon. Mark Brantley, Premier of Nevis, when they visited his Pinney's Estate office accompanied by parents and teachers on November 30, 2018.
A visibly delighted Mr. Brantley, joined the students in singing a variety of Christmas carols and at the end thanked the students, parents and teachers for bringing the Christmas spirit to Nevis. He also gave the students a token of appreciation.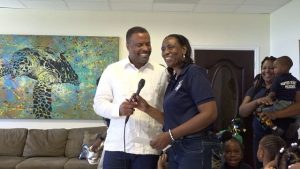 "I want to thank you all for coming and for making the trip all the way from St. Kitts and for doing this. Many people don't know but you do it over and over. This has become an annual event and I think it brings the joy of Christmas certainly to the Premier's Office and certainly to the island of Nevis.
"I want to thank all of you, the teachers, parents and particularly the pre-schoolers who have come over and who have sung so lustily for all of us…This is a monetary contribution. My hope would be that you use it for whatever reason you desire maybe a treat for the children but that's entirely up to you," he said.
Ms. Icilma Knight, Supervisor at the school, explained that they have been traveling to Nevis to bring Christmas cheer for the past four years.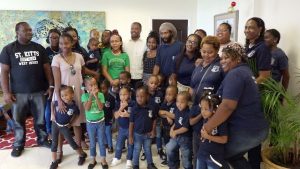 "We brought some children over from the pre-school and the purpose is to spread some love and cheer, and what better way to do it than to use the smallest children and so we visited the Flamboyant Nursing Home first and then we went to [Voice of Nevis] VON Radio and we came here…
"It's not our first time. We have been visiting here for over four years  and we usually have a very good reception here and the children are loved and welcomed wherever they go and so before we leave we trust that you would have a very Merry Christmas and a Happy New Year from the Baptist Academy Pre-School in St. Kitts," she said.
The school supervisor thanked Mr. Brantley for his generous donation to the students and announced that it would be used to host a Christmas party and treat for the students.