Belgian Ambassador to Nevis Premier: I'm very impressed with your island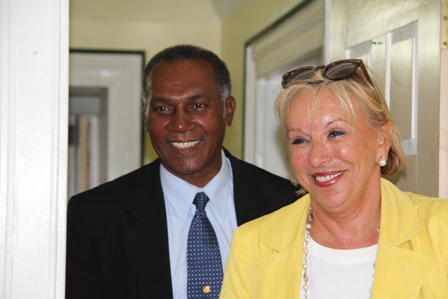 NIA CHARLESTOWN NEVIS (April 25, 2013) —
Ambassador of the United Kingdom of Belgium to St. Kitts and Nevis Her Excellency Mrs. Godelieve Van den Bergh, made her inaugural visit to Nevis and paid a courtesy call on Premier of Nevis Hon. Vance Amory on April 24, 2013, at his office at Bath Plain.
In a brief comment at the end of the meeting, the Ambassador told Mr. Amory she was impressed with what she had seen of the island and assured him of her return in the future.
"Thank you Mr. Premier for the nice souvenir you gave me from Nevis. I am very impressed with your island.
"I am the new Ambassador of Belgium, it is my first visit here but I am sure I will come back and I hope we continue our excellent relations. I even dare to hope we improve them. Thank you very much," she said.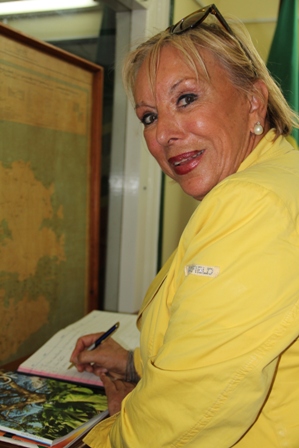 In response, Mr. Amory thanked the Ambassador and told her he was pleased she was able to visit.He said he was certain the good relations between St. Kitts and Nevis and Belgium would continue and extended an invitation for a return visit in the future.
The Ambassador, who arrived in the Federation from April 21st to 27th, presented her credentials to the Governor General of St. Kitts and Nevis His Excellency Sir Edmund Lawrence in Basseterreon April 23, 2013.
While on Nevis, she also paid courtesy calls on Deputy Governor General His Honour Mr. Eustace John and Leader of the Federal Opposition Hon. Mark Brantley.
The Belgian Ambassador also had the opportunity to visit a number of historical and cultural sites on the island and also had lunch at a local restaurant before her return to St. Kitts.