Canadian couple in love with Nevis; feels like our other home, they say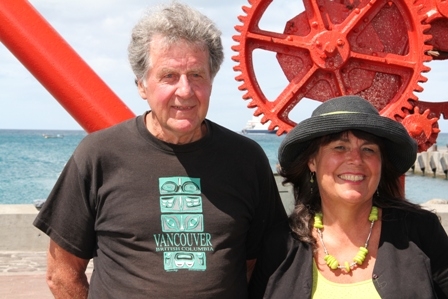 NIA CHARLESTOWN NEVIS (February 27, 2012) —
A Canadian couple say they are in love with Nevis, its people its food and hope to make the island their home away from home.
Gail and Ray Hunt from British Colombia, Canada first came to Nevis in 2010 as cruise passengers, at a time when the Nevis Air and Sea Ports Authority (NASPA) headed by General Manager Mr. Spencer Hanley was observing Marine Awareness Day. The couple won a prize and in 2011 and returned to Nevis for their five night stay at the Nisbets Plantation Hotel and since then the rest was history.
The couple spoke to the Department of Information on February 22, nearing the end of a 12 day visit to the island.
"We just have to come back now because we love Nevis so much. Perhaps it's not the easiest place to get to but it is worth every minute to come here. We love it and we will be coming back again, finally for a longer time, this Christmas and we plan to make that an annual event now because we love the people and the place so much.
"We will be bringing at least two people with us when we come and we are hoping that other people will follow along and we have people who want to rent places here with us so we are on a bit of a search this trip to find accommodations for our friends and family from Canada," Mrs. Hunt said.
The couple who reside in Vancouver British Colombia did not always live there. Mrs. Hunt grew up in Montreal, Quebec and her husband grew up in New Zealand.
However, she could not hide the hospitality and joy that their visit to Nevis has brought to them and registered their gratitude to all who have been making their stay on Nevis memorable.
"I would just like to thank everybody on Nevis both the foreigners who live here permanently now and all of the local born people. People here have been so kind to us. That is why we want to come back at Christmas because we feel we found a new home.
"Today we were at Black History School concert and it was so touching and so beautiful and we felt so welcome so thank you very much," she said.
Responding to a question from NASPA's General Manager who was present Mrs Hunt said although their first visit to Nevis was on a cruise, she recommended that first time visitors come to spend some time and enjoy the island and its charm.
"It is nice to come here first on a cruise ship first but I think that the cruise ship schedules are getting not to be so frequent here and it's nice to come and have an overview but definitely and Ray would agree, definitely you have to stay here to really get a feel for the island and stay as long as you can," she chuckled.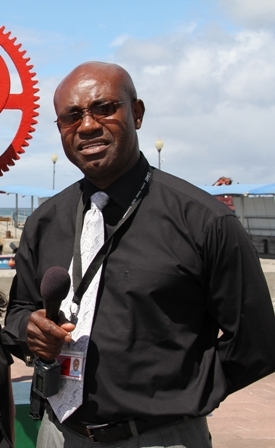 Mrs. Hunt also spoke to the restaurants on the island some she had already visited and spoke of her experience with the local cuisine.
"The first restaurant we went to here was the Double Deuce Bar down on Pinneys Beach and he was very kind to us. His food was delicious and he has been a good ambassador for the island. He has found us accommodations here.
"We love the Gallipot, we love Nisbets of course. The local food at the Yellow Bus, in the market, at the bakery we love it all. We have to come back and try more places because we just love it all and you must try the goat water and the conch seafood soup and the roties," she said bursting with excitement.
The Hunts have already booked to return to Nevis for Christmas 2012 for a month and plan to return for Christmas 2013 for two months.
In response to the couple's repeated visits spurred by the NASPA award in 2012 Mr. Hanley said he was pleased that the Marine Awareness day had borne fruit and their return visit was testimony to that.
"This is their third visit and now they are planning to come back later this year to bring other persons with them. We hope that each time you come you bring one more couple and that couple will bring another couple and so on and eventually we will see lots of persons from British Colombia and New Zealand coming here to our beautiful gem, Queen of the Caribbean," he said.