Catch the vision Officers! Don't be left behind in the corridors of mediocrity, PM Douglas tells Police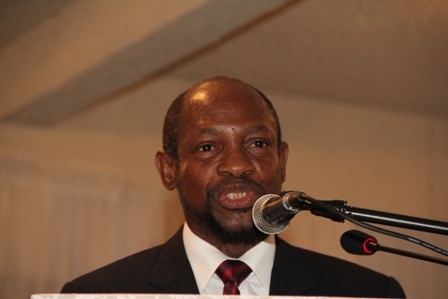 NIA CHARLESTOWN NEVIS (February 28, 2012) —
Police Officers in the Royal St. Christopher and Nevis Police Force, Nevis Division, were urged to not settle for mediocrity since they had a Commissioner willing to do everything necessary to ensure they were successful in all their undertakings.
The advice came from Prime Minister of St. Kitts and Nevis the Right Honourable Dr. Denzil L. Douglas when he delivered remarks at the 9th annual Constables Awards Ceremony and Dinner on February 25, 2012. The event was held by the Strategic Planning Group at the Occasions Events Centre at Pinneys.
"His aim is to see his officers and his Force recapture the image as one of the region's best, not only in crime fighting but in crime prevention. There are those of you who continue to express appreciation to him for his leadership and commitment as well as his interest in your own professional development.
"Commissioner C. G. Walwyn has a vision for the Force. His aim is to lift the level of competency of this Force to that of an efficient law enforcement agency in the 21st century. Catch the vision officers! Don't be left behind in the corridors of mediocrity. You will be endangering your own lives and the lives of those who are now willing to embrace you, to partner with you and make your work so much more rewarding," he said.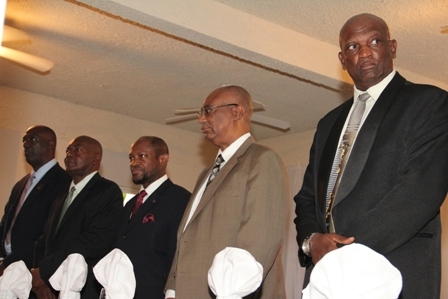 The Prime Minister further told the Officers that they should make headlines in the media but in a positive way and they should allow the public to applaud them when they excelled in their performance and quick responses to apprehend those who dared to be disorderly and revel in crime.
"Let them not just wait to report of yet another robbery and another homicide. We know that there is more to your performance and professional development that they are missing or failing to focus on," he said.
Dr. Douglas reminded the Officers that they were tasked with the very special responsibility of ensuring that everyone in St. Kitts and Nevis, without exception, met and adhered to the standards of behaviour that as a nation through the legislative branch of Government, had determined to be in the best interest of the Federation.
He thanked the nine Police Constables who were being honoured for stepping up, stepping forward and trying their best, for going beyond the call of duty, understanding the very special opportunity to make the Federation a better place and for consistently doing their best to make it that way.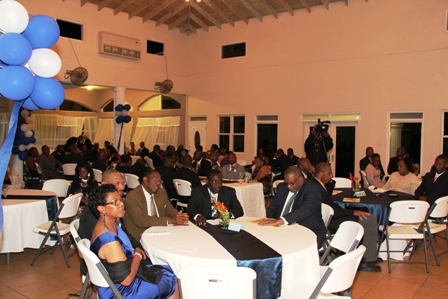 According to Prime Minister Douglas, the world was becoming an increasingly tumultuous place but Kittitians and Nevisians had been blessed to have been born in and lived on the two precious islands that formed the Federation and now more than ever it was important for each individual to do their best.
"We must be committed, we must be vigilant, we must be resolute in doing our very best whether we be teachers, famers, doctors, homemakers or something else to lift up, protect and to honour this country which has been bequeathed to us and whose future we have been entrusted to protect.
"It is this commitment to excellence, across the board, that will produce for us the kind of country that people everywhere will want," he said.
Commissioner of Police in the Royal St. Christopher and Nevis Police Force Celvin G. Walwyn was also singled out by Mr. Douglas, for the work he had begun regarding the transform and improvement of the delivery of service from the Police to the people they served.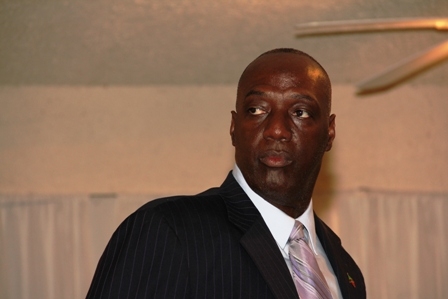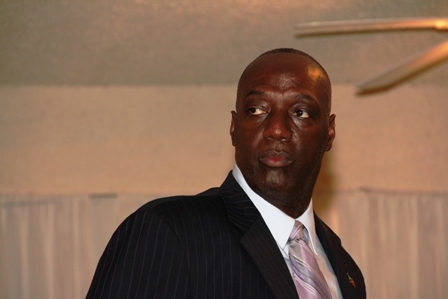 The Prime Minister pointed to the six months the Commissioner had served so far and said much had been accomplished.
"Commissioner keep up the momentum! Maintain your focus! Officers if the old methods are not working embrace the best practises and new methodologies that will lift the standard of policing to the level that is required to be successful in what you do," he said.
In conclusion, Dr. Douglas told the awardees that they had proven they understood the importance of standards in the execution of their duties, demonstrated they understood the relationship between a commitment to excellence and safer and stable societies.
He registered hope that their example would inspire their fellow Kittitians and Nevisians in all fields of endeavour all across the Federation.