Children should take leadership role in keeping Nevis clean, says Health Minister Brantley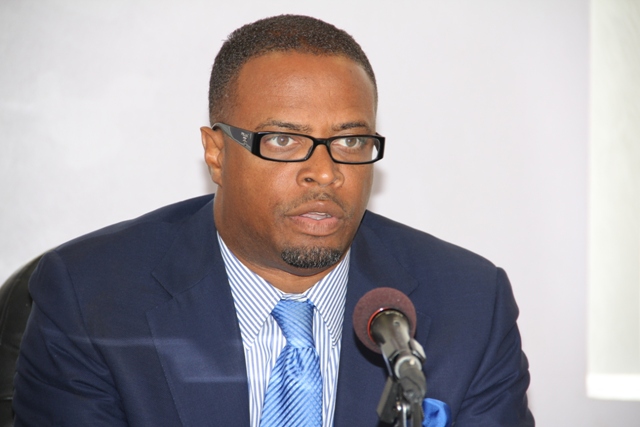 NIA CHARLESTOWN NEVIS (May 06, 2014) –Deputy Premier of Nevis and Minister responsible for Health in the Nevis Island Administration (NIA) Hon. Mark Brantley said it was of critical importance for the island's school children to take a leadership role in keeping the island clean.
He made the comment when he delivered brief remarks on April 29, 2014 at the First Council of All Beings, a contest hosted by the Nevis Solid Waste Management Authority at the Nevis Performing Arts Centre in celebration of Earth Day on April 22.
"It is important I feel that the schools are now involved in this exceptional, innovative idea of a Council of Beings, that all of our children start from a very young age to appreciate the relevance and the critical importance of Planet Earth. It is for us very important that we protect our environment and it starts with each of us. All of us have an obligation…
"Having our school children involved and having them take a leadership role in keeping Nevis clean is absolutely critical. So all of you here, from the various schools that are represented, when you see Mommy or Daddy littering, stop them. Take the lead. Let them know that it is important for us to keep Nevis clean," he said.
The Health Minister used the opportunity to publicly thank the management and staff of the Authority and other public health workers for their ongoing effort in keeping Nevis clean.
"I want to, as I did publicly before, congratulate Ms Frith and her staff of the Nevis Solid Waste Management Authority, the men and women who are out on the trucks and out on the road side keeping the island clean, the people who are in Environmental Health, the young men we see on the road sometimes with their weed-whackers keeping the island clean.
"A lot of times we take that for granted. We think to ourselves that perhaps that's not important work. In fact it's very important work," he said.
Apart from the health aspect. Mr. Brantley said the NIA remained committed to its thrust toward geothermal energy development on the island and that they were in negotiations with the developer.
"We are in fact now in intense negotiations with the developers in our Geothermal Project. They are on Nevis until next week, ironing out and buttoning down the final issues.
"So the Ministers have been, sort of, behind closed doors working with those and geothermal energy, as we know, is one of those things that Nevis is doing, one of those great things that Nevis is trying to do that will redound to our benefit for generations to come and one of the things which, if we can harness that potential, can definitely lead to us doing our little part in our little island, in our little part of the world to put our Earth first because it means, therefore, that we will be powered on the island of Nevis by a resource that is entirely renewable, entirely green and that it allows us, therefore, to wean ourselves off fossil fuels and reduce our carbon footprint," he said.
The Council of All Beings is an initiative of the Authority, which speaks to the importance of various organisms to the health of the environment.