Development of human resource capital remains priority for Nevis Government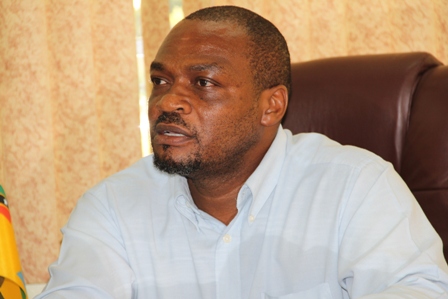 NIA-CHARLESTOWN NEVIS (August 22, 2011) –
Development of the human resource capital on Nevis remained an area of great priority for the Nevis Island Administration (NIA). Word of this came from Permanent Secretary in the Human Resources Department of the Premier's Ministry Mr. Chesley Manners.
He was at the time delivering remarks at the NIA/Medical University of the Americas Scholarship award ceremony which was held at the Ministry of Finance's conference room on Monday.
"Through training, the Administration is quite confident that it would be able to play a leading role in preparing our people for the important task of nation building," he said.
According to Mr. Manners, since the inception of the NIA's training programme in 2006, over 180 Nevisians had been able to access financial assistance to pursue higher education at regional and international institutions. Some have been able to pursue studies by distance through that facility.
He noted that a number of Nevisians had already completed courses in various fields and had returned to Nevis and were making their contribution to nation building.
The Permanent Secretary pointed to a number of priority areas that the NIA had identified for training to which one ought to pay particular attention, if their efforts in training were to be productive.
He used the opportunity to list the priority areas in the area of Education/Teaching among them – Mathematics, English, Sciences (Chemistry, Physics, Biology, Agricultural Science), Accounting, Economics, Geography, Modern languages, Food and Nutrition, Reading Remediation, Music, Early Childhood Education, Special Education, Liberal Studies, Electricity and Electronics, Metal Work, Automotive technology, Plumbing, Clothing and Textiles, Technical Drawing, Building Technology and Woods.
In the area of Health the priority areas are – General Surgeons, Anaesthetists, Paediatricians among others. Also studies in Veterinary Medicine, Dentistry, Nursing, Pharmacy, Radiography, Medical Technology, Health Education, Environmental Health, Dietetics and Psychiatry.
Other General areas of study were Tourism and Hospitality, Renewable Energy, Legal Counsels (Legal Drafting) Stenography (Court Reporting etc.), Surveying, Policing, Social Work, Management and various fields of Engineering including Water, Civil, Electrical, Electronics, Mechanical among others.
"As we make a concerted effort to focus on our areas of greatest need, we appreciate that nation building is not solely the mission of Government but rather should be viewed as a collaborative endeavour where all are invited to make their contribution felt," he said.
Mr. Manners also registered the NIA's gratefulness for continued assistance from non-governmental organisations and friendly governments.
"Of course we are always happy to welcome on board our corporate entities which remain important stakeholders in so many areas. The Administration is extremely happy to partner with the Medical University of the Americas which has pledged to award two scholarships annually to deserving citizens.
"We want to thank this institution for their commitment to our nation's development and we applaud them for all they have done for the advancement of our people. Indeed we are happy to report that the NIA/MUA Scholarship Fund is a reality," he said.
He also congratulated the awardees and expressed the hope that the relationship between the NIA and the MUA would be long lasting as the citizens continued to benefit from a timely and far reaching initiative.