Documentary of 17th century Nevisian Colonist in production on Nevis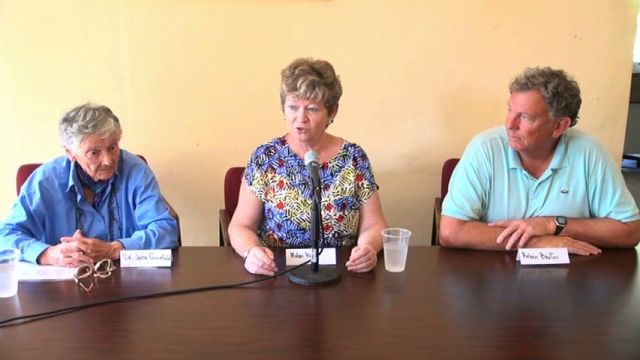 NIA CHARLESTOWN, NEVIS (December 01, 2015) — A documentary film on 17th Century Nevisian colonist, Philipa Prentice is being filmed on the island and upon completion would be televised globally.
This information was released at a press conference convened at the Ministry of Tourism on November 25, 2015. The panellists were Film Producer, Robin Bextor, author of the "Rivers of Time" Dr. June Goodfield and former Director of Tourism Department, Ms. Helen Kidd.
In Mr. Bextor's synopsis of the 45 minute film, he depicts the early colonist Philipa Prentice as the symbol of wealth for the planter class through the oppression of the slaves.
Meanwhile, through a simple act of erecting a memorial in the position where he found a grave headstone on Saddle Hill, Nevisian Roland Archibald who has since passed, provided an event for the start of Dr. Goodfield's investigation.
Dr. Goodfield will be portrayed as not only the researcher of the book but also as a guide in the documentary.
The island of Nevis will play a pivotal role in the film. In Mr. Bextor's view, the film is based on the beauty of the island.
He also expressed his belief that the documentary film will not only be witty and humorous but the theme of people coming to terms with oppression will also be resonated.
In support of the overview of the documentary film, Dr. Goodfield says that even though persons are unknown or unheard of, they have been known to change the course of history.
She also conveys the fact that the main characters in the film would have helped to create the Nevis that is known and loved today. Even though they were beset by differences on all levels of their existence they nonetheless became strangely connected in the film.
Dr. Goodfield also expressed her gratitude to those who helped her in her research especially the late Vince Hubbard and Bryan Littlewood. She said the latter left her a great deal of his legacy which she intends to digitize and present to the archives at the Alexander museum.
In the meantime, great grandson of Roland Archibald, Marvin Chapman, was commissioned by Dr. Goodfield to make a replica grave headstone to replace the existing grave headstone of the late Philipa Prentice.