Dozens March Against Violence…Minister Calls for Community Support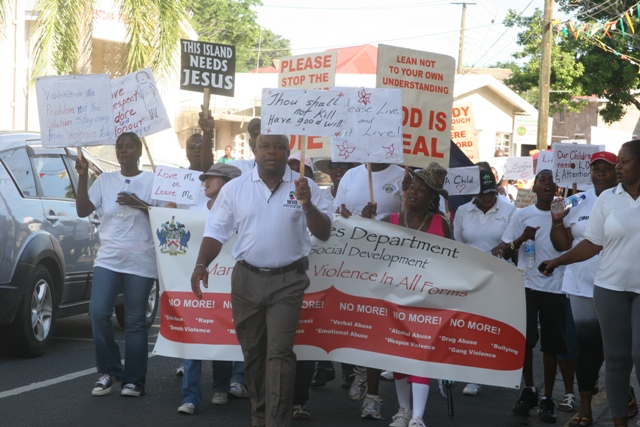 The Honourable Hensley Daniel leading the march against violence
CHARLESTOWN NEVIS (November 16, 2010) — Dressed in a polo shirt and slacks while holding a white placard with the words, "Thou shalt not kill…have goodwill," Minister of Social Development in the Nevis Island Administration [NIA] the Honourable Hensley Daniel joined members of the Department of Social Services and the Nevisian community on last Friday's [Nov.12] march against all forms of violence.
An appreciative crowd gathered at Pond Hill, at 1:00 pm, where they laid a wreath in memory of Nevis' most recent murder victim; Ms. Chantelica Thompson. She died on Nov. 2.
As they marched along the island's main road, school students, civil servants and other members of the community, including residents of neighbouring island St. Kitts, joined the protest which culminated shortly after 3:00 pm at the Memorial Square in Charlestown.
Minister Daniel commended the Department of Social Services for its foresight and vision in hosting the event as one of the activities to mark Child Abuse Awareness Month. He said that while Ms. Thompson's death would have given fillip to the march, it [the march] had already been planned "to deal with the problems that the officers at the department were encountering with domestic, physical and verbal abuse."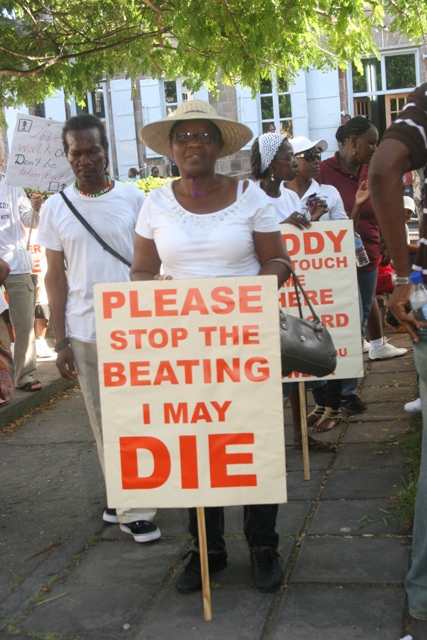 Health Advisor in the NIA Mrs. Patricia Hanley
When asked if he was surprised at the turnout in Charlestown, Minister Daniel exclaimed, "Of course not! This is a Christian society. This is a society whose conscience has been moved and we have to always move based on the mandates of conscience and so the people came out and have been moved by this dastardly act of violence."
"I cannot expect people to remain sleeping through this great period when their presence is needed to show support for the [grieving] family and also to send a clear message to say, by marching, that I too am opposed to this kind of behaviour," he added.
Domestic abuse, according to Minister Daniel, "is one of the dark paths of our society that we have to deal with."
"I think by our keeping the focus on it over the years, we are going to see some reduction. It is very important to send a very clear message to people that this kind of domestic violence is not to be accepted," he highlighted.
Minister Daniel, who also holds responsibility for Youth in the NIA, echoed his call for complete community involvement to stop violence, particularly; domestic violence. He added that there was a need for young people to practice tolerance and conflict resolution.
"As I've said before, domestic violence is endemic and something has to be done from us and from the wider community. This business of resorting to violence to settle a dispute has to stop but we can only arrive at that when we do so at the family level, when we have all of our partners like the churches and the community organizations moving in the same direction," Minister Daniel exclaimed.
NIA Health Advisor, Mrs. Patricia Hanley was among the persons present at the march. When asked why the march was important to her she spoke of the various forms of abuse that women had been faced with, and in a passionate voice said, "I would have none of it so I want it to stop; that's why I'm a part of this."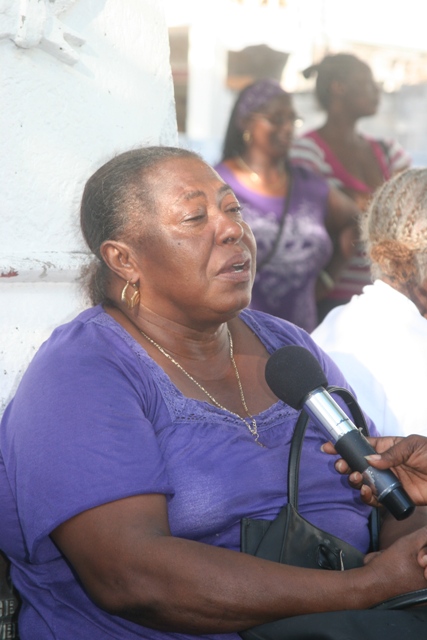 Chantelica Thompson's aunt Ms. Patricia Thompson
A St. Kitts based member of the American Peace Corp, Mr. David Nedwick told the Department of Information that he was enthused to participate in the march after news of Ms. Thompson's death surfaced across the federation.
"We heard about the terrible tragedy and it really touches my heart and I hope this [the march] will touch the hearts of other people in this community and on this island and on St. Kitts because it's a tragedy that doesn't deserve to happen. It's not fair. It's not right so I hope and pray that this will help bring the problem to the surface and I'm saying that with as much sincerity as I can muster," Mr. Nedwick said.
While several persons sported placards which addressed incest, onlookers could not help making remarks about the assumed difficulty that the Thompson family was having in coping with their most recent loss.
Brown Hill resident and aunt of the deceased, Ms. Patricia Thompson along with other members of her family, joined the march and said that while the Thompson family continued to mourn Chantelica's loss they found comfort in knowing that the community shared their pain.
"I am grateful for all of the support that has shown here today. It sort of just cushion some of the grief that we are going through and I speak for the family and I say that we really appreciate it. It shows that we are not alone in this fight," she said.
Ms. Thompson's voice dropped. She shook her head then said, "It [the march] is important to me because, if I am going to get personal I'm going to say, it seems as though these young men on Nevis are just targeting my family and this has been my second niece in two years that has gone almost the same way."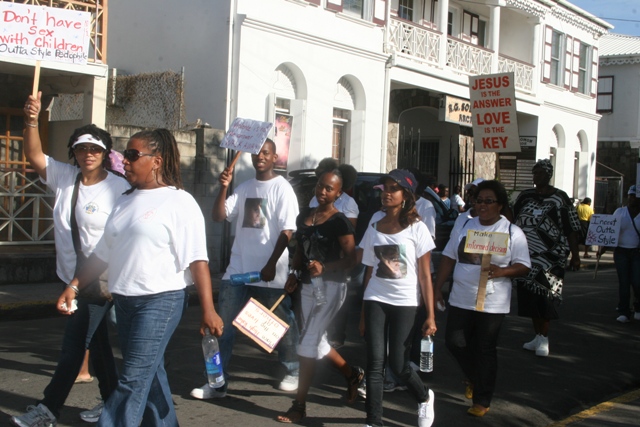 Employees of Brown Hill Communications remembering Chantelica Thompson
She was at the time referring to the 2007 murder of Mrs. Shermelle Phillip.
In an experience which she described as "heart rendering," the grieving aunt said she was "fed up" and believed that the time had come for "this nonsense to stop."
"I think it [the march] was very impressive. I just hope that the message that was sent was well received," she said.
Employees of Brown Hill Communications also formed part of the march as they wore white t-shirts displaying the image of their former coworker, Chantelica.
The march was followed by a candle light vigil.