Education Community Service Initiative could lead to a more harmonious society, says Nevis' Education Minister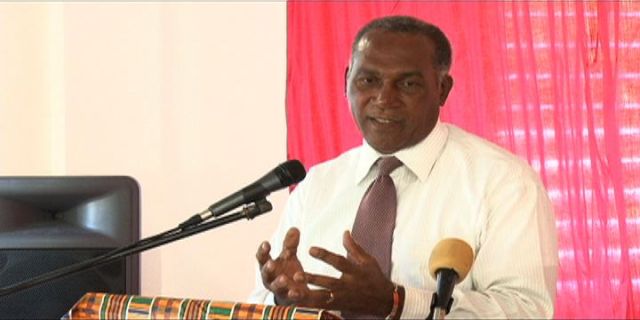 NIA CHARLESTOWN NEVIS (MARCH 19, 2014) – Premier and Minister of Education in the Nevis Island Administration (NIA) Hon. Vance Amory at the launch of the pilot Education Community Service Initiative (ECSI) stated that with this new programme, young persons will be able to re-direct their focus away from deviant behaviour.
The remarks came from the Premier at the ceremony held at the Charlestown Primary School's cafeteria on March 17, 2014. The pilot volunteer programme will require 35 of the island's third and forth form students to give a total of 50 community service hours to a number of non-profit organisations and businesses over the course of one year.
"This community service initiative, school-based, will enable us to re-create a society in which there is a greater care of one another and this could lead to a more harmonious society. I have a firm belief and a conviction that it will change the course of history and that it will be used as a tool, as an example, to get those of our young people who feel that there is this aggravated mode of living, getting involved in crime, this is an initiative which can serve to direct and redirect and focus our young people away from deviant behaviour.
"I am convinced that this will help to create and enhance and improve our socialization of our children. It will also help to create better social interaction. It will also help to create what we are longing to see return, that is the ability of our young people to communicate, to exchange ideas and, as one said, to be able to look, to listen and to learn and to grow," he said.
Premier Amory advised the participating secondary school students to see this initiative as a stepping stone in improving their character and contributing positively to the island of Nevis.
"Those of you from Charlestown Secondary and those from the Gingerland Secondary, you are a privileged group…and I think this is important because too often we seem to emphasise strong things, but I want to say to us, as we are trying to get this initiative going, that it is time that we seek to strengthen the softer sides of our people.
"That side which speaks of honesty, of humaneness of good manners, strengthen those qualities in our young people and if we are able to strengthen those qualities, I think it will make a much better society," he said.
The Education Minister commended the Permanent Secretary in the Ministry of Education, Lornette Queeley-Connor and the Department of Education for strengthening the positive qualities of the island's young people.
"Over the last year I have sought to challenge our educators, our principals and teachers to devote some of their teaching time to the inculcation of values in the children, even if it is not a special session for that purpose…and I want to commend Mrs. Connor and her team for having the courage to buck the trend and not to go down the easy road but to seek to turn things around by launching an initiative which requires dedication and commitment," he said.