Education PS Barrett publicly lauds efforts of school principals on Nevis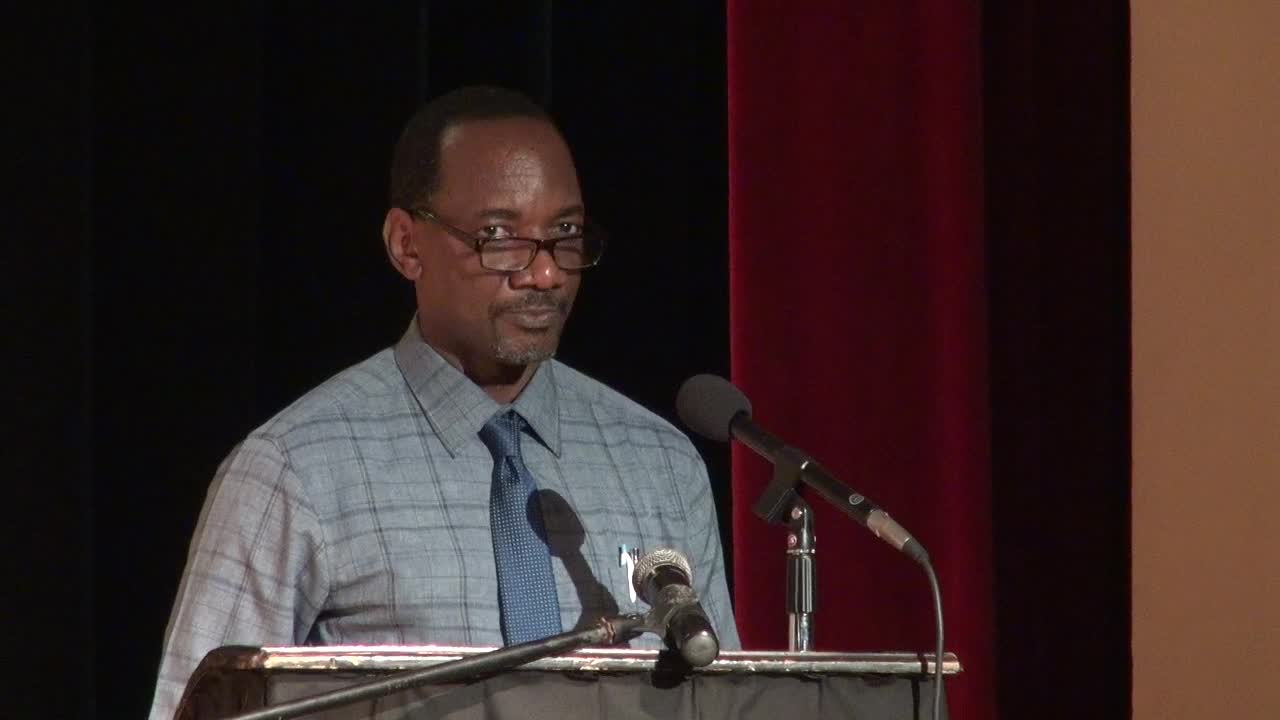 NIA CHARLESTOWN NEVIS (AUGUST 28, 2017) — Mr. Kevin Barrett, Permanent Secretary (PS) in the Ministry of Education on Nevis, publicly thanked members of the teaching fraternity but singled out principals of the last school year, for their selfless contributions to education.
He was at the time delivering remarks at the Department of Education's annual Back to School 2017 Opening Ceremony. The event was held at the Nevis Performing Arts Centre (NEPAC) on August 28, 2017, with the theme "Investing in Quality Education: Empowering the Nation".
"I know your job isn't easy… I know personally, what it could do to you physically, mentally, emotionally and even spiritually. I know about the nasty phone calls, the criticisms and the dissentions, even in your own camp and I know of the extra miles that you have travelled because I have been there, and so, I commend you for a job well done," he said.
Mr. Barrett, who is a former principal, also used the opportunity to encourage the sitting principals to remain steadfast in their endeavours and pledged his support.
"I know at times you make decisions and they are very unpopular but they are right. So I want you, this school year, to continue to do the good job that you have been doing.
"The criticisms will continue, the dissentions will continue but do the right thing and I pledge to you my support because I've been there," he said.
The Permanent Secretary, encouraged teachers to support their principals, since they are all investing in quality education to empower the nation.
He also commended them for their dedication and congratulated those who went the extra mile to ensure improved pass rates in key areas in the last school year.
Mr. Barrett, acknowledged that teaching is a difficult job even for those who made the profession a life-long career. However, he urged those already in the education system to embrace the new teachers who are entering the fraternity in the new school year.
"I want you teachers who have been in it for a long time to embrace the new ones. I ask you to do that because often times when we get into a new environment, it is that culture that tells us or encourages us to continue…the new ones are going to be seeking your advice and your help.
"I'm asking you to do the best that you can to embrace them. Show them the right way and encourage them when they come to you and they are themselves discouraged. You would have done it for a number of years and you would have learnt ways in which to overcome and I am imploring you to impart what you have learnt in your experience," he said.
The Permanent Secretary also commended Mrs. Palsy Wilkin, Principal Education Officer for her hard work overseeing the education system, managing various areas of education and ensuring that quality education is invested in the nation.
He also applauded the students who were successful in their examinations and the parents who helped and supported them throughout the year.
Among those present at the ceremony were Hon. Mark Brantley, Acting Premier of Nevis and Dr. Neva Pemberton, Chief of Education Planning St. Kitts and Nevis.