Federal Government and NIA truly committed to youth empowerment, says Attorney General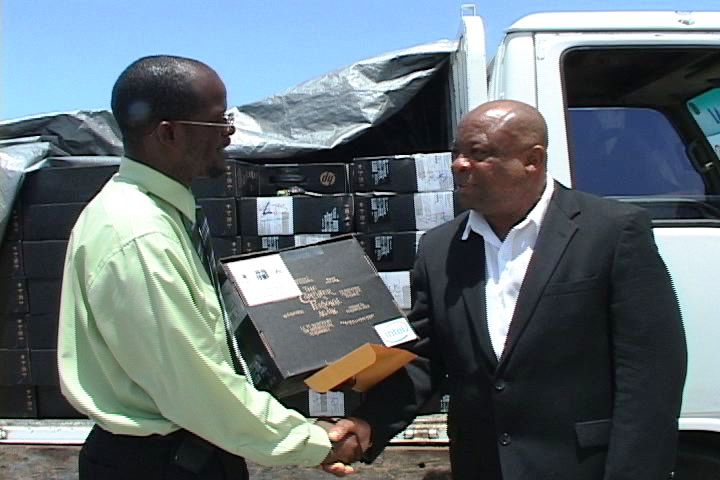 (L-R) Attorney General of St. Kitts and Nevis Hon. Patrice Nisbett hands over one of hundreds of laptops to Deputy Premier and Minister responsible for Technology in the Nevis Island Administration Hon. Hensley Daniel at the Sea Bridge Ferry Terminal in Cades Bay
NIA-CHARLESTOWN NEVIS (April 08, 2011) — The One-to-One Laptop Programme, an initiative designed to provide laptop computers to secondary students in St. Kitts and Nevis, should be seen by the Federation's youths as a true commitment by Federal the Government and the Nevis Island Administration (NIA) to the idea of youth empowerment.
The comment was made on Wednesday at the Sea Bridge ferry terminal at Cades Bay while Mr. Nisbett handed over hundreds of Hewlett Packard laptops to Deputy Premier and Minister responsible for Technology on Nevis Hon. Hensley Daniel. Also present was Principal Education Officer Mrs. Lornette Queeley Connor.
Mr. Nisbett expressed the hope that the children of Nevis were now better equipped to deal with the educational challenges on receipt of the computers.
"I sincerely hope that the children of this country are now better equipped to deal with the educational challenges and they will be better prepared for life in general and in making their contribution to nation building and country development," he said.
The Attorney General described the initiative as an important one which would prepare students of the Federation to bridge the digital divide. The device, he said, would be used as a learning tool in the class room environment and to position students to compete with their colleagues across the world.
"At this particular point in time, we live in a global village and we have to ensure that our students become technology savvy, computer savvy and that they are given the necessary tools that we believe others are using and others have used to their advantage and so the students of St. Kitts and Nevis and the students of Nevis in particular are not left out," he said.
While he thanked Prime Minister Hon. Denzil Douglas for his investment in the nation's youth, Mr. Nisbett noted that it was another way to ensure that the youths of the Federation remained on a positive path. However, he said the gesture warranted a pay back from the young people to make positive contributions to the society when the time came.
He also expressed gratitude to the Federal Minister of Youth Empowerment and Minister of Technology Hon. Glen Phillip and his team for the tireless effort to ensure proper execution of the programme.