Five persons benefit so far from Mortgage Relief Scheme on Nevis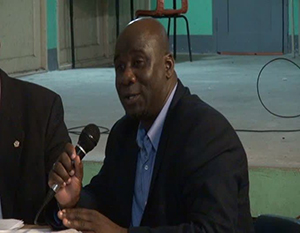 NIA CHARLESTOWN NEVIS (September 04, 2014) –Five home owners with mortgages from the Nevis Housing and Land Development Corporation (NHLDC) have so far benefited from the Mortgage Relief Scheme which was introduced by the corporation in April 2014.
That disclosure came from Minister responsible for Housing and Lands on Nevis Hon. Alexis Jeffers when he made a presentation to members of the public at a Nevis Island Administration (NIA) town hall meeting at the Gingerland Secondary School auditorium on September 01, 2014.
"To date we have had five persons who have benefited from that Mortgage Relief Scheme and five might sound like a small umber but let us look at it this way. It's one per month to this day…
"One person benefited to the tune of $34, 099; another about $34, 658; another had savings of $34, 914; another $17, 606 and the fifth person $18, 325. When you add up all of these and combine all of the savings, plus what these portfolios represent, you would have seen a portfolio of five mortgages amounting to $930, 998. 39. What that amounts to is the pay-out from the bank. That is what the initial mortgages would have represented but based on what the bank would have provided the Corporation with for those five mortgages it was $790, 583.64, representing just about $139,514.75 savings covering those five mortgages," he said.
According to Mr. Jeffers, the Scheme was introduced to make good on a campaign promise that would bring financial relief to persons who had mortgages through the NHLDC. He stated that those who benefited from the programme were given certain advantages.
"You get an automatic 15 percent discount off your principal balance. Then you also have the added advantage of not paying your legal cost for the transfer. We also said that you would get an automatic title to your property because you don't get that through the Corporation until you have paid for 30 years and it's transferred in your name.
"We do believe that this relief is going to provide some comfort to them and that is why these five persons would have benefited substantially," he said.
Mr. Jeffers also noted that the Corporation was informed that there were at least five more mortgages pending at various lending institutions on Nevis but over time he would report on the progress of the scheme.
However, the Minister stated that he had instructed the corporation's manager that the money derived from the scheme should not be wasted.
"I have told the manager that we are not going to squander this money, we are going to put it in a separate account and leave it there to represent what we have accomplished," he said.