Foreign Affairs Minister Brantley assumes CDCC Leadership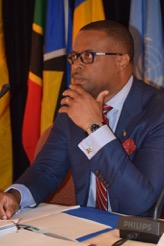 NIA CHARLESTOWN NEVIS (April 25, 2016) — The following is a press release from the Ministry of Foreign Affairs and Civil Aviation dated April 22, 2016.
Basseterre, St. Kitts – The 26th session of the Caribbean Development Cooperation Committee (CDCC) convened at the St. Kitts Marriott Resort in Basseterre on April 22, 2016. The opening session was chaired by Ms. Diane Quarless, Director, Economic Commission for Latin America and the Caribbean (ECLAC), and she expressed regrets of Ms. Alicia Bárcena for not being able to attend.
Introductory remarks were made by Mr. Antonio Prado, Deputy Executive Secretary of ECLAC. In his remarks he exhorted the gathering to "celebrate all things Caribbean" especially in light of the West Indies domination of T20 cricket recently.
He also expressed the view, that by far the most important challenge over which the Caribbean must gain control, is how best to deal with the unsustainable levels of public debt in a manner that builds the resilience of our countries to external shocks, while re-igniting growth and promoting economic transformation by investment in green industries and climate adaptation initiatives.
Under-Secretary for Ministerial Affairs in the Ministry of Foreign Affairs and Foreign Trade in Jamaica Ambassador Sheila Sealey-Monteith, the outgoing chair of the CDCC, addressed the body and expressed gratitude on behalf of her country to ECLAC for their assistance during their tenure as chair of the CDCC. She further indicated that the chair, being rotated in alphabetical order, now became the responsibility of the Federation of St. Kitts-Nevis and handed over the chair accordingly.
Hon. Mark Brantley, in assuming his responsibility as chair of the CDCC, addressed the gathering and synopsized that the discussion of the Caribbean Development Roundtable set the stage for brainstorming on the topic: The Debt Overhang: balancing adjustment with sustainable development in the Caribbean.
He spoke of the decrease of the Debt to GDP ratio in St. Kitts-Nevis by over 100 percentage points but also mentioned the risk of eroding the gains without proper fiscal discipline and the failure to manage the debt overhang. He also highlighted the achievements of the Federation in providing a robust suite of social services to strengthen the safety net of vulnerable groups.
Following these statements there was elections of officers to serve the CDCC for the biennium 2016-2018. Elected were Antigua and Barbuda, the British Virgin Islands and the Dominican Republic as Vice Chairs and St. Vincent and the Grenadines as Rapporteur.
The meeting continued under the chairmanship of the Hon. Mark Brantley with a discussion on the Debt Overhang and Preparation for the Ageing population in the Caribbean. There were several resolutions considered and adopted at the meeting as well as the welcoming of St. Maarten, the newest associate member to ECLAC to the CDCC.