Foreign Affairs Minister Brantley leads delegation to Republic of China (Taiwan) to foster closer collaboration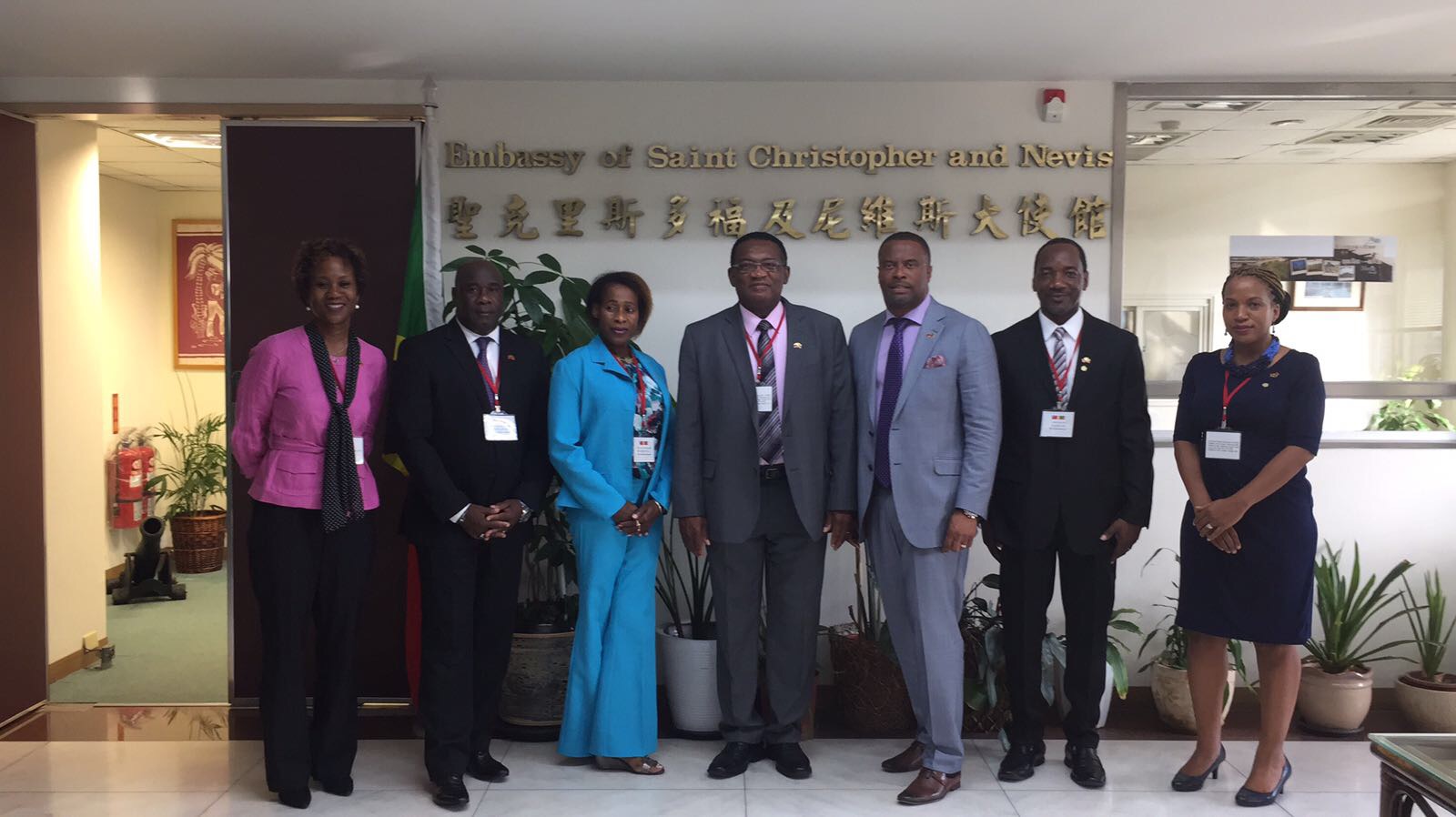 NIA CHARELSTOWN NEVIS (AUGUST 23, 2017) — The following is a press release dated August 22, 2017, from the Ministry of Foreign Affairs in St. Kitts and Nevis.
Leading a small group of government officials to the Republic of China (Taiwan), Head of Delegation and Foreign Affairs Minister, the Honorable Mark Brantley, along with the Honorable Eugene Hamilton of the Federal Cabinet and Honorable Alexis Jeffers of the Nevis Island Administration (NIA), sought to expand the ties with Taiwan during meetings with high level government officials on a visit to that country.
Other members of the delegation include Mrs. Nicole Slack-Liburd, Permanent Secretary in the Ministry of Health and Mr. Kevin Barret, Permanent Secretary in the Ministry of Education on Nevis.
In his welcoming address to the delegation, Minister Lin of the Council of Agriculture of Taiwan, acknowledged the ongoing beneficial relationship between Taiwan and the Federation and pledged the Council's continued support for the many projects underway in the Federation.
Minister Lin, also committed his ministry to working collaboratively with the Ministry of Foreign Affairs of Taiwan, to explore ways in which Taiwan's assistance to the Federation in the area of agriculture can be enhanced.
Minister Brantley reiterated his gratitude for Taiwan's contribution to the sector while Minister's Hamilton and Jeffers laid out additional areas of partnership with the Government of Taiwan.
The delegation, also met with the Secretary General, H.E. Timothy Hsiang of Taiwan's International Cooperation and Development Fund (ICDF), to discuss ongoing and future projects in Saint Kitts and Nevis.
Minister Brantley pressed the Secretary General for increased ICDF scholarship opportunities for students from the Federation and also expressed the government's interest in having professionals from Taiwan come to Saint Kitts and Nevis to teach Mandarin in schools in the Federation.
"Mandarin is already a significant language and will prove invaluable to future trade and development. The people of St. Kitts and Nevis, particularly our young people, must be prepared to communicate globally" Minister Brantley said.
Secretary General Hsiang, assured the delegation that his office would coordinate with MOFA to look at project proposals discussed, with a view to assisting the Federation in human resource development.
The delegation is accompanied by Her Excellency Ambassador Jasmine E. Huggins, Resident Ambassador of Saint Kitts and Nevis to the Republic of China (Taiwan),