Four Seasons Resort, Nevis announces bumper occupancy expected for 2019-2020 tourist season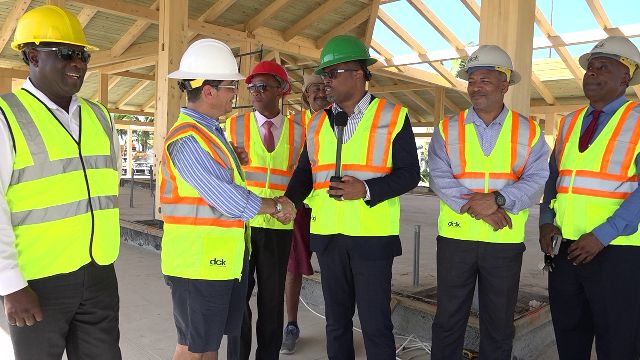 NIA CHARLESTOWN NEVIS (October 01, 2019) — Four Seasons Resort, Nevis expects to experience its highest occupancy during the 2019-2020 tourist season. It will be the most in more than 10 years.
Mr. Gonzalo Gëlman Ros, the resort's General Manager, made the announcement on September 30, 2019, when the Cabinet of the Nevis Island Administration (NIA) led by Hon. Mark Brantley, Premier of Nevis and Minister of Tourism visited the resort, one day before its scheduled reopening. The facility was closed for four months to facilitate major refurbishment work there.
"We are very excited also to announce that as from December, mid-December, it's going to be the best season of Four Seasons in the last 10 or 15 years I would say, and we are going to have a high, high occupancy as from December to the end of July.
"So I'm very excited to welcome all our colleagues to start working with us again, and I can tell you that Four Seasons, Nevis is back. We are very proud of it," he said.
However, the resort's general manager noted that renovation work is not completed but was expected to be completed during October.
"We are working full speed to finish the renovations and as we promised tomorrow, October 1st, is going to be opening and receiving the first guests for the season.
"During October we are going to finish the full staff of renovations that we are still missing around the pool and the new restaurant but the other facilities and amenities from the resort are going to be up and running," he said.
In response, Mr. Brantley thanked the general manager for receiving them, and registered the satisfaction with the ongoing work at the resort.
"You would recall we were here a few months ago when this was started, and we are very impressed with what we have seen and we are very impressed to hear the number of people who are here working, local contractors.
"I was told you have a day shift of 75 and a night shift of 75, so 150 people. The activity here is really impressive and the extent of work that has been done is really impressive and I am delighted, of course that the workers are coming back out October 1st….and then you would start receiving your first guests," he said.
Mr. Brantley used the opportunity to praise the partnership both parties have enjoyed over the years and wished the resort well.
"We wish you all the best. Government has clearly been a good partner to Four Seasons and Four Seasons has been a good partner to us, and we will continue certainly to work together to make this happen. Four Seasons has kept its word to us and that means a lot to us," he said.