Geothermal development project commences on Nevis; Phase One to commence in October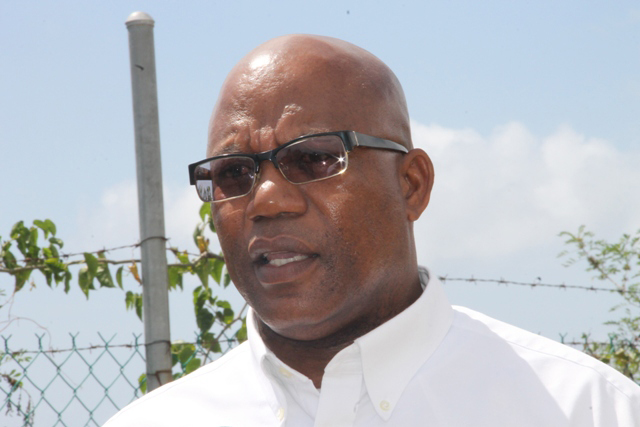 NIA CHARLESTOWN NEVIS (September 13, 2017) — A new era in geothermal development on Nevis has commenced. Mr. Mc Levon "Mackie" Tross, Local Representative for the geothermal developers Nevis Renewable Energy International (NREI) said the first phase of the project is expected to commence in October, 2017.
In an interview with the Department of Information on September 12, 2017 at N3, the geothermal production site on more than nine acres of land at Hamilton Estate, Mr. Tross said preparatory work, which began on August 30th 2017, is ready for the commencement of the project's first phase.
"We started site clearing on August 30 and we did that in preparation for the drilling of a new test well and that will commence in the first week in October…We expect the equipment to be arriving at the Long Point Port around the 4th to 5th of October.
"Once the equipment gets here, with the help of the local authorities and police, we will get the equipment at this drill site in Hamilton and reassemble it since some of it would have to be disassembled for transportation and that drilling process should take about 45 days," he said
Dosecc Exploration Services LLC, drilling contractors based in Salt Lake City, Utah in the United States of America (USA) will be engaged in the drilling process.
The test well is projected to be 4,000 meters deep. It will be used to collect as much data as possible to satisfy the financiers.
NREI's Local Representative, added that during that drilling process, thousands of gallons of water would be utilised and contingencies have been put in place.
"We will be using a lot of water here and a nearby dug out area on the property would hold about 2,000 gallons of water. We will be lining the area shortly so that we could start collecting run off water.
"If we need any additional water the Nevis Water Department has agreed to pipe some water here so we should have about 2,000 gallons of water prior to the start date on October 4th. Once we get going, we would need about 100,000 gallons of water just to start the project and thereafter the consumption of water should be much less than that," he said.
After the test well has been drilled and the data analysed, final adjustments will be made to the engineering. They would then move to the process of starting the production well planned in early 2018.
Mr. Tross, said between eight to 10 persons would be involved digging the test well segment of the project, four of whom would be local. Four persons were interviewed last week to work along with the drillers.
However, he explained that as the project progresses into its second stage, up to 80 local persons would be employed. Mr. Tross urged interested persons to begin applying for jobs.
"We are asking locals to go on the website: www.cleanpowernevis.com. There is an employment section, go in, put in your credentials and just send it off. That would go into our data base.
"We would be looking at that data base and when the appropriate time comes, we would be contacting persons for interviews, so that we could select the best persons for the jobs at that time," he said.
The Nevis Island Administration signed a Power Purchase agreement with NREI in 2015 for geothermal development on Nevis.