Health Official pleased Nevis included in cervical cancer research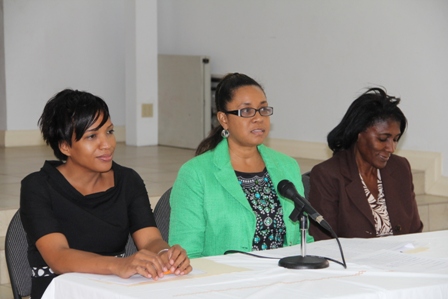 NIA CHARLESTOWN NEVIS (January 29, 2014) — Permanent Secretary in the Ministry of Health on Nevis Nicole Slack-Liburd, said it was a proud moment for Nevis to be among the first islands to spearhead research into the cause and prevalence of cervical cancer. St. Vincent and the Grenadines is the other participating OECS and CARICOM neighbour and Slack-Liburd stated that as a result the data would not only be for local benefit.
Her comment came when she addressed participants at a Human Papilloma Virus and Vaccine Acceptability Study Workshop which was held by the Nevis Island Administration (NIA) in collaboration with the Pan American Health Organization (PAHO) at the St. Paul's Anglican Church conference room on January 29, 2014.
"This data therefore will not only influence local initiatives but also regional initiatives which will allow for other islands with like epidemiological profiles to also use the data generated from these two studies to impact their planning processes," she said.
According to Slack-Liburd, statistics for Nevis during 2010 to 2012 reveal that 11 percent of the cancers detected were cervical and as such the Ministry of Health would embark on the study over the next few months which would determine through research, the prevalence of the infection of the female population over 30 years of age on the island.
"This data will strengthen the evidence-based decision making process as it relates to the determination of gaps, if any, in cancer prevention, care and treatment, as well as the allocation of resources in the same respect," she said.
Slack-Liburd further explained that the field aspect of the study would be conducted by local doctors and nurses with support from the Alexandra Hospital's Laboratory staff along with other personnel at health centres and select health facilities on Nevis. The study is expected to cover a population of 500 in St. Kitts and Nevis.
The Permanent Secretary stated that the initiative was being held in tandem with the Ministry of Health's objectives for 2014, among them the encouragement of healthy lifestyle practices in the population through further implementation of health promotion programmes which targeted individuals, families and communities.
"It would also reinforce the mandate of the Draft National Health Policy which is governed by the essential public health functions – the obligatory set of services to be provided by government in the area of research, monitoring and analysis of the health situation of communities and populations to identify priority problems, risks and solutions and the reporting of the same," she said.