Hon. Mark Brantley makes donation to Ministry of Health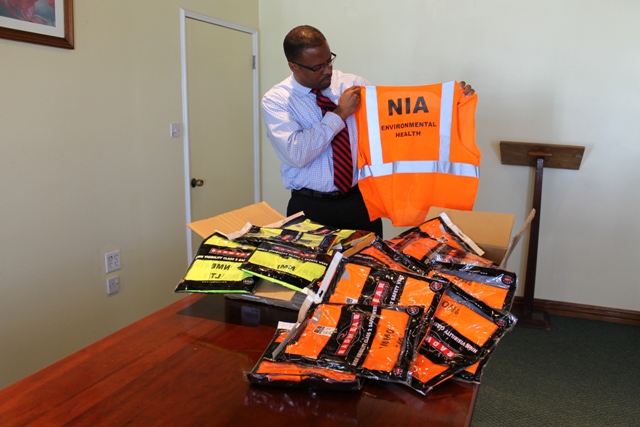 NIA CHARLESTOWN NEVIS (March 25, 2014) – The Environmental Work Programme and the Environmental Health Department in the Ministry of Health on the island of Nevis received 50 reflective vests on March 24, 2014. The vests were a donation made by the Hon. Mark Brantley in his effort to ensure the safety of the workers.
While delivering remarks, during abrief handing over ceremony at the conference room of the Alexandra Hospital's Administration Building, Mr. Brantley explained that it gives him a tremendous amount of pride and pleasure to make the personal contribution and said he hopes that the workers put them to good use.
"These are people in the Environmental Health Programme who are really on the front lines of what we do to try and keep the island healthy and I thought it was a good opportunity to get these reflective vests for them.
"There are 50 of them so we have enough, some yellow and some orange but enough to go around. The hope would be that as motorists and as others on the road see our workers out there that they will clearly be more careful around them so that the safety and security of our workers can be maintained. I think that it is useful that those of us who can, from time to time make whatever little contributions we can, bearing in mind that all of these workers are out there doing their very best to keep Nevis safe, keep Nevis clean," he said.
Permanent Secretary Nicole Slack-Liburd, who accepted the donation on behalf of the Ministry of Health, expressed appreciation to Mr. Brantley for the personal donation, which she said would be a tremendous asset to ensuring the safety of our employees in the two programmes.
"We know that these employees are often out early in the morning and often late in the evenings as well and so being able to be identified at a distance will greatly enhance their safety.
"We know that the workers on these programmes have been anxious and have been asking for these vests and we know that Mr. Brantley has come forward personally and honoured their request as he is very concerned about the health of the workers here at the Ministry of Health so we take this opportunity to thank him for his donation," she said.