Japan's Foreign Minister hosts SKN Foreign Minister Brantley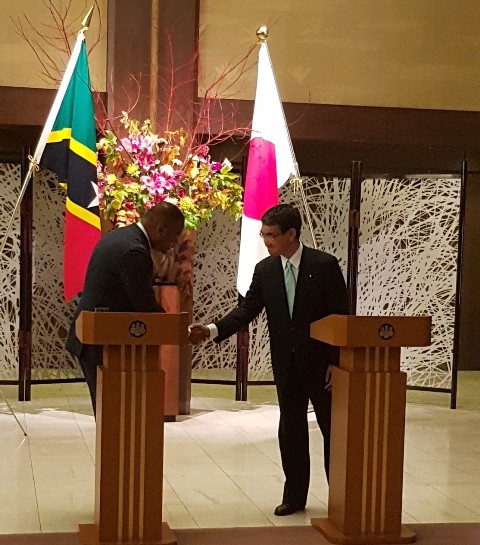 November 02, 2018 (Ministry of Foreign Affairs)  — Mr. Taro Kono, Foreign Minister of Japan invited Hon. Mark Brantley, St. Kitts and Nevis Minister of Foreign Affairs to engage in bilateral discussions at a working dinner in Tokyo during his visit to Japan.
The Foreign Ministers engaged in discussions on a wide range of bilateral and multilateral issues including climate change and the relaxing of travel restrictions between the two countries.
Minister Kono and Minister Brantley also discussed the issue relating to the difficulties encountered by St. Kitts and Nevis and other countries in the Caribbean Community (CARICOM) in accessing concessionary loans, having graduated to middle income status.
Other matters discussed included nuclear weapons proliferation, security on the Korean Peninsula, China-Taiwan relations and deeper cooperation in international fora.
Minister Brantley used the opportunity to convey gratitude on behalf of the Government and people of St. Kitts and Nevis, for Japan's longstanding support to the Federation. He also extended an invitation to Foreign Minister Taro Kono to visit St. Kitts and Nevis in the near future.