Jeffers' Contribution to Tourism and Hospitality Does Not go Unnoticed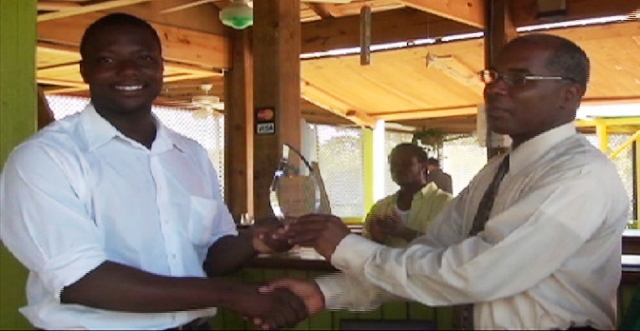 NIA-CHARLESTOWN, NEVIS (November 7TH, 2011) — "I feel like the Prime Minister up here," whispered Mr. Randy Jeffers just seconds after accepting a recognition award for contribution to tourism and hospitality on Nevis.
The award, presented by Permanent Secretary in the Nevis Island Administration's Ministry of Social Development Mr. Alsted Pemberton, placed Mr. Jeffers in a category of accomplished young Nevisians who had recently been honoured for their varied achievements and contributions to the island's economy.
Describing the Oct. 27th presentation as "richly deserved," Youth Development Officer attached to the Department of Social Services' Youth Division, Ms. Leiser Mills, chaired the ceremony and presented congratulatory remarks on her Division's behalf.
In addition to being accurately profiled by friend Ms. Dianne Hobson, Mr. Jeffers' many humanitarian efforts were outlined. Among them were his contribution to and participation in Nevis' annual summer festival, Culturama.
"He has an unwavering love for Culturama and as a personal contribution to this festival; he entered the Mr. Kool Contest in 2004. He is now the holder of the franchise for [the] Miss Caribbean Culture [Queen Pageant]; a prominent pageant that adds an extra touch to Culturama," Ms. Hobson stated.
The 28-year-old, she added, "shadows the notion that limitations live only in our minds but if we use our imaginations, our possibilities become limitless."
PS Pemberton, in addition to presenting the award, said much of the honouree's work had had positive effects on the NIA's Ministries of Tourism, Social Development, Culture and Youth.
"Randy has done a tremendous work in promoting Nevis as it relates to culture by way of the Caribbean Culture Pageant," Mr. Pemberton highlighted.
Mr. Jeffers, in response and in the presence of well wishers, said he remained humbled by the honour.
"The road to this point in my life has been both challenging and rewarding. I wish only to give back in some tangible way to the land and people who have nurtured me throughout my years," Mr. Jeffers said.
He also recorded appreciation to those who recognised his "ongoing contribution to nation building."
The successful directorship of his Pinney's Beach-based establishment, together with his tour guide service dubbed "Discover Nevis", catamaran and water sports activities were listed among the reasons for Mr. Jeffers' selection as an honouree.
Mr. Jeffers has been a financial contributor to causes such as the Rhythmz Dance Theatre dance productions, primary school-hosted and community-organised sporting events and Culturama. He has also donated to local organisations and groups such as the Nevis Red Cross Society and the Nevis Renal Society.