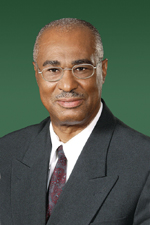 Premier and Minister of Finance, Statistics & Economic Planning, Education & Library Services, Human Resources, Tourism and Labour.
BIOGRAPHY
The Honourable Joseph Walcott Parry, a contemporary man of traditional values. He was born in Cotton Ground, educated in Charlestown Secondary School and The University of the West Indies where he achieved an Honours Bachelor of Arts degree in History and Economics.
In sports, Mr. Parry served as President of Nevis Cricket Association for over ten years. He was a representative for Nevis on the Leeward Island Cricket Association for six years and sponsored a number of sports teams in his home parish of St. Thomas over the past years. He also represented Leeward Island Cricket Association on the West Indies Cricket Board of Control.

Mr. Parry has been very active in Church as a member of the Lowlands Anglican congregation, serving on the Vestry for a number of years. Other charitable organizations have also benefited from his knowledge and experience.

Mr. Parry was a teacher at the Charlestown Secondary School for the majority of his Civil Service Career. He has been a positive influence in the lives of many Nevisians who have gone on to excel in their own careers. In fact, at the 40th anniversary celebrations, he was voted by his peers and former students as the most outstanding male teacher.
Joseph Parry served as the first Nevisian Permanent Secretary and was responsible for establishing the Social Security Office in Nevis. This dedicated Nevisian was the architect of the Nevis Civil Service Structure when he served in government after Independence in 1983.

The Honourable Joseph Parry is an experienced politician starting his career in 1987 and reaching maturity in Government as the Minister of Tourism, Agriculture, Lands, Housing, Development and Labour. He was one of the principle architects of the first development plan for Nevis. His integrity has never been called into question and his love for his country and its people has been unwavering.
Mr. Parry has also been successful in the private sector both as an entrepreneur and as a non executive member of several Boards. He was a founding member of the Bank of Nevis over twenty years ago and was one its first directors. He has also served as Chairman of the Bank of Nevis International and presently chairs the Investment Committee and Human Resource Committee. He is currently Chairman of the Bank of Nevis Mutual Fund...