Jr. Minister Liburd issues call to conserve Nevis' water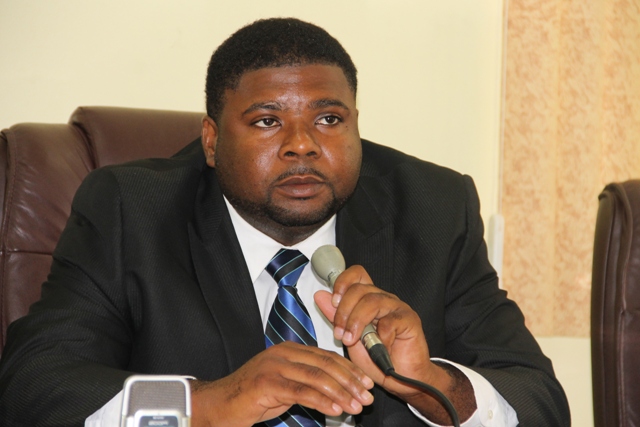 NIA CHARLESTOWN NEVIS (June 25, 2014) — Junior Minister in the Ministry of Communication, Works, and Public Utilities on Nevis Hon. Troy Liburd issued a call to the people of Nevis to take care of their environment and conserve one of the island's precious commodities – water.
Mr. Liburd was moved to do so at a handing over ceremony for grant assistance from the St. Kitts and Nevis Sugar Industry Diversification Foundation (SIDF) on June 24, 2014, for an EC$29.6million Nevis Water Supply Enhancement Project, jointly funded by the Caribbean Development Bank and the Nevis Island Administration (NIA) at the Ministry of Finance conference room.
"I want to take the opportunity to appeal to our residents on island to take care of your environment, to conserve water…Nevis as we know is 36 sq. miles and we have to protect the little resources that we have here. We do not have any glaciers or perennial rivers and lakes that provide water to us. Most of our water on island is ground water.
"We need to protect our environment, protect our little resources, so that we can ensure the same quality of water we have today, that future generations would be able to get the same type of water. I want to ask the general public not to be wasteful and if you conserve, conserve a little bit more," he said.
The Project he said would also serve to secure the island's water resource for the future.
Meantime, Mr. Liburd also used the opportunity to call for the public's patience since there would be interruptions with the water supply and traffic because of the water enhancement project.
"I also want to ask the public to be patient with us. This project is a civil works project so over the coming months, we will see some work being done on our main roads and so on and there will be some interruptions.
"Bear with the folks at [the Nevis] Water Department. Bear with the people who will be working and know that this Government is working to take us to a better place and that this project, all of the interruptions are for a good and the end result would put us in a better place," he said.