Keep a watchful eye on yourselves: GSS 2013 Valedictorian tells colleagues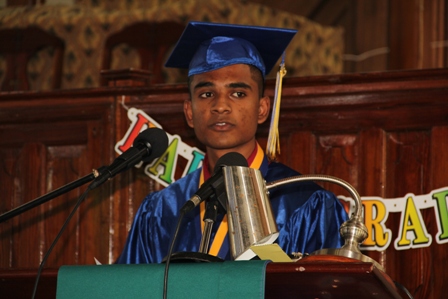 NIA CHARLESTOWN NEVIS (November 28, 2013) — Valedictorian of the Gingerland Secondary School's graduating class of 2013, Mr. Doodnauth Sarjoo, urged his 65 fellow graduands to keep a watchful eye over themselves as they left the shelter their school had provided for them over the past five years.
Mr. Sarjoo's advice came when he delivered the valedictory speech at the graduating ceremony on November 28, 2013. It was held at the Gingerland Methodist Church with the patronage of Mr. and Mrs. Samuel and Lornette Webbe under the theme "Celebrating 40 years of Success through Collaboration, Accountability and Partnership."
"My fellow, graduants, the challenges beyond these sheltered walls are greater than those within. As you embark in the field of work or higher education, keep a watchful eye over yourself. Guard well your tongue, control your behaviour, live peacefully with all men and to your own self be true," he said.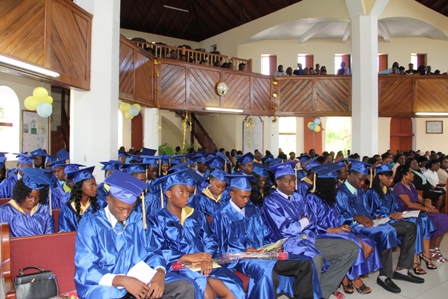 The Valedictorian also expressed thanks, on behalf of the graduating class, to those who contributed to the successful completion of their secondary education.
"We thank God for bringing us this far and for aiding us to endure our struggles. To our parents, who expended time and money in helping us to secure a solid foundation, thank you for never giving up on us, for believing in us and for ensuring that we completed our secondary education. We are forever grateful to you," he said.
He also thanked the School's staff, past and present, and expressed indebtedness tothem who diligently moulded and fashioned them.
Mr. Sarjoo described the graduating class as a distinguishing, hilarious and troublesome bunch who had been perceived by many as energetic. He said their tenure at GSS was marked with many changes in their personal lives and they had gotten to the end by faith.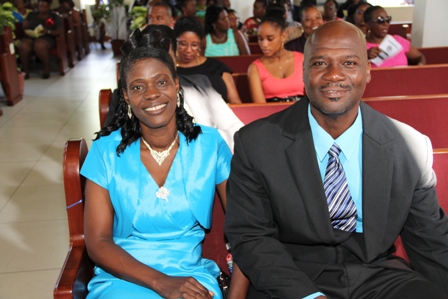 Apart from being named the Valedictorian of the GSS Class of 2013, Mr. Sarjoo received a number of awards: the Premier's Award for passing more than six Caribbean Secondary Examination Certificate (CSEC) subjects, Best Caribbean Examinations Council (CXC) CSEC General Proficiency Results, F&F Transportation (Caribe Queen) Best Science Award, Bronte Swanston Award for Best Business and Science results, Danielle Martin Award for outstanding Mathematics and Science results, Gingerland Diabetic Association's Award for Good CSEC Biology results, Annette Manners' Award for distinction in CSEC Food and Nutrition, City Drug Store Award for Best CXC CSEC Science results, Dr. Cardell Rawlins Award for Best Male CSEC results, the James H.& Patricia L. Award for Best CXC CSEC results, the Dr. Yakini Brandy Award for outstanding Chemistry results and the Keith Glasgow Award for Good Results in Economics.
Also present at the graduation ceremony were Premier of Nevis and Minister of Education Hon. Vance Amory and Mrs. Amory, Junior Minister Hon. Hazel Brandy-Williams and Mr. Williams and Junior Minister Hon. Troy Liburd, other education officials, former teachers, family members and well-wishers.