Key administrative changes set for NIA-owned secondary schools in new school year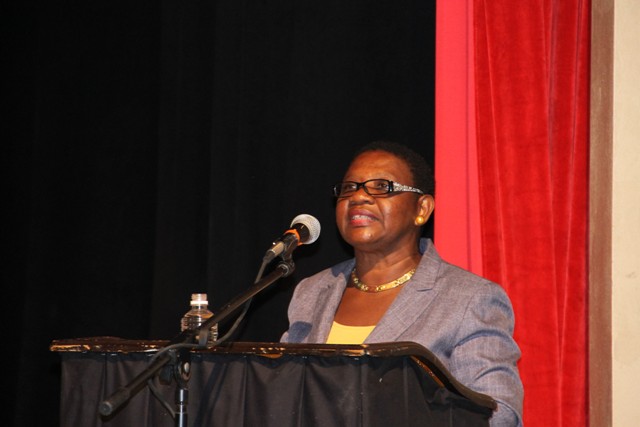 NIA CHARLESTOWN NEVIS (August 31, 2017) — When students of the two Nevis Island Administration (NIA)-owned secondary schools on Nevis reopen for the 2017/2018 school year, they will be met with significant changes in the administration.
Palsy Wilkin, Principal Education Officer (PEO) in the Department of Education made the announcement recently at the department's annual Back to School 2017 Opening Ceremony. It was held at the Nevis Performing Arts Centre with the theme "Investing in Quality Education: Empowering the Nation."
"At the Charlestown Secondary School (CSS), Mr. Edson Elliott, former principal of the Charlestown Secondary School, will now join the staff at the Department of Education. Mr. Elliott will now be the Education Officer for the secondary schools," she said.
Mr. Elliott, who held the former position for the past 13 years, also headed the Nevis Sixth Form College and the Multi-Purpose Centre simultaneously. He now holds the record of being the longest serving principal of a secondary school on Nevis.
Mrs Wilkin thanked him for his dedicated service, which she described, as a job well done.
Former deputy Mr. Juan Williams will be the new principal and Mrs. Jasmin Dore who has been a teacher at the school for some time, has been promoted to the position of deputy principal.
At the Gingerland Secondary School (GSS), Mrs. Lineth Williams has been promoted to Principal, from her former deputy principal position. The Deputy Principal will be Mr. Kayno David.
The PEO congratulated them all on their new positions and pledged continued support from both the Department and Ministry of Education.
Meantime, Mrs. Wilkin used the opportunity to speak of other changes within the Department of Education.
Ms. Julie Pemberton and Ms. Reneé Anthony will join the department as Early Learners Programme Coordinators. They are expected to formally work along with Mrs Terres Dore, Education Officer for Literacy in the department and the point persons in Nevis for the Organisation of Eastern Caribbean States (OECS) Early Learners Programme and Ms. Londa Browne, Library Coordinator at the department.
It is a literacy programme for early learners which deals with the teaching of reading. During the last school year, it was piloted in member states including St. Kitts and Nevis.
The Joycelyn Liburd, Charlestown, Violet O. Jeffers Nicholls Primary Schools and the Nevis Academy, took part in the pilot project. However, in the new school year the programme will be introduced to other primary schools on the island.