Kosovo and St. Kitts and Nevis have building blocks for good relationship, says Nevis' Premier Brantley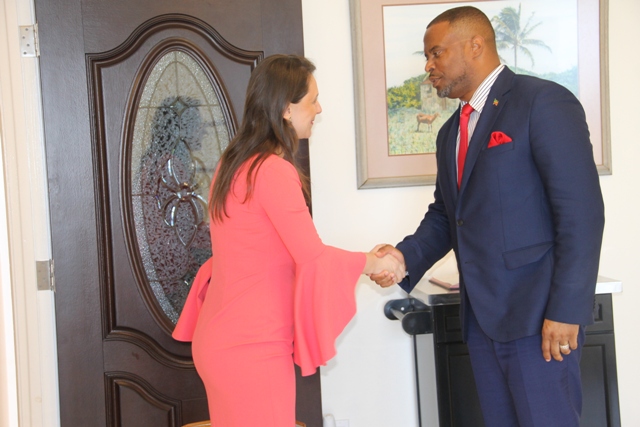 NIA CHARLESTOWN NEVIS (May 08, 2018) — Ambassador-designate Extraordinary and Plenipotentiary of the Republic of Kosovo, Her Excellency Zana Rudi, paid a courtesy call to the Office of Premier of Nevis Hon. Mark Brantley on Tuesday, April 24, 2018.
Premier Brantley, who is also the Minister of Foreign Affairs in St. Kitts and Nevis, said he looked forward to the meeting and welcomed the Ambassador to the Federation, and more specifically to the island of Nevis.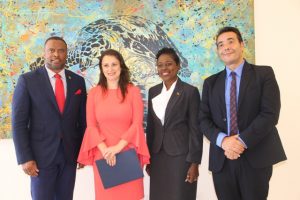 Based in Panama, the ambassador will have responsibility for diplomatic relations between St. Kitts and Nevis and Kosovo.
Kosovo declared its independence in 2008 and St. Kitts and Nevis recognised the country in 2012 and since that time the two countries have steadfastly been trying to build their relationship, the Premier explained.
"My mandate, as Minister of Foreign Affairs, is to widen and deepen relations with existing friends and certainly to seek out new friends. We're particularly pleased that in 2016 Kosovo would have signed a visa waiver agreement with us, allowing nationals of St. Kitts and Nevis to travel without a visa to Kosovo for up to 90 days and vice versa. We have already, I think, the building blocks for good relationship," he said.
Ambassador Rudi was in the Federation to present her credentials to the government of St. Kitts and Nevis, as the first ambassador from Kosovo to be accredited to St. Kitts and Nevis since Kosovo's independence in 2008.
"It's a great honour to be here as the first representative of my country to your beautiful country and specifically, since I'm saying hello to the people of Nevis, great to be here. What a spectacular view! What a good energy of the people! I cannot wait to work more with your government to deepen our relationship, as a country, but also to increase our exchange between the people, between the government and to the betterment of our countries and our relations.
"Thank you so much for this very warm welcome. I'm really honoured to be here," Ambassador Rudi said.
She was accompanied by Minister Counsellor at the Embassy of the Republic of Kosovo, Naser Miftari, and escorted by Thouvia France of St. Kitts and Nevis' Ministry of Foreign Affairs.