Long-standing Agriculture worker on Nevis honoured for contribution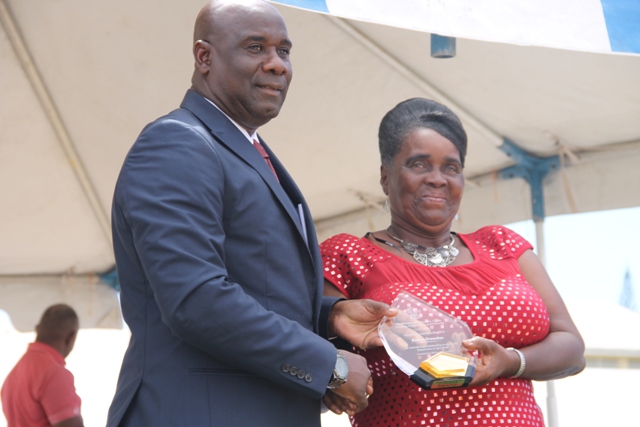 CHARLESTOWN NEVIS (MARCH 26, 2015) –Long-serving Department of Agriculture worker Ms. Roslyn Cranston, was commended by Minister of Agriculture on Nevis Hon. Alexis Jeffers for the honour bestowed on her as Patron of the department's 21st annual Open Day for her contribution to the development of agriculture and by extension Nevis.
He was at the time delivering remarks at the event's opening ceremony on March 26, 2015, at the Villa Grounds in Charlestown.
The two-day event is being held with the theme "Strengthening the Drive towards Food Security."
Mr. Jeffers said Cranston had served the department with distinction for more than 20 years and was deserving of the honour. He said he was hopeful that she would continue to inspire other workers to serve as diligently as she had over the years.
According to her profile which was presented at the ceremony, Ms. Cranston has been an employee of the department since August 1980.
Since she took up employment there, she worked on all the government-owned estates – Indian Castle, New River, Eden Brown, Potworks, Cades Bay and Prospect.
Her duties ranged from planting, weeding and harvesting crops andshe worked on all the crops including cotton.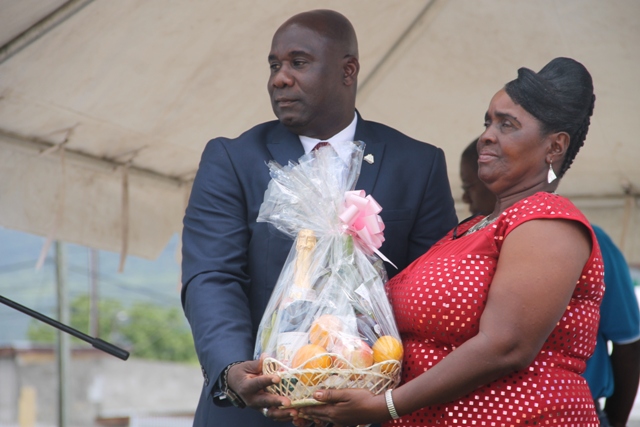 "Roslyn remembers working on the cotton crop in almost all of the estates and apart from the regular duties, she also cleaned cotton. Her duties also included planting and weeding sugar cane at Indian Castle," the profile read.
The 2015 Open Day Patron spent most of her time at the Prospect Estate where she has been based since 1991. She said that site is her favourite place of work where she is regarded as an all-rounder. There she is involved in the production of vegetables, root crops, fruit trees and seedlings.
Cranston takes pride in her work, is punctual, hardly absent, respectful to her supervisors, greets everyone with a smile and is always willing to go beyond the call of duty to ensure that productivity on the estate is maintained.
She also assists with cleaning the department's offices at Prospect when the regular cleaner is on vacation and has also assisted in cleaning the offices of the Minister of Agriculture.
The patron is quoted in the profile as saying that she "thoroughly enjoyed all the years that she has spent with the Department of Agriculture." She expressed gratefulness for her tenure with the department and said even though her line of work is tough she enjoys it and never complains.
Cranston is described in her profile as an excellent example of a hard-working, resourceful woman and a dedicated mother.
It also said, when she commenced duties with the department, her wage was $53.00 a week andshe worked from 7a.m. till 4p.m. Over the years she survived on a small wage on which she sometimes single-handedly raised her three children.