Mexican Ambassador pays courtesy call on Nevis Premier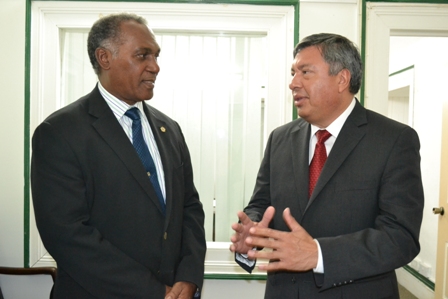 CHARLESTOWN NEVIS (February 25, 2014) — Tourism and Administration are among the areas in which Nevis stands to benefit from the new relationship forged with Mexico.
Premier of Nevis Hon. Vance Amory made the comment when he spoke to the Department of Information of February 24, 2014, at the end of a meeting at his Bath Plain Office with His Excellency Luis Manuel Lopez Moreno, Ambassador of Mexico to the Organisation of Eastern Caribbean States (OECS) countries who paid him a courtesy call.
"I am welcoming and meeting Ambassador of Mexico to the OECS His Excellency Luis Manuel Lopez Moreno who has come to visit Nevis…We spoke also about some of the ways in which his country, Mexico, can continue to cooperate and collaborate with St. Kitts and Nevis and especially with Nevis.
"We spoke of developing some projects, which we will have to refine and finalise in tourism and also in administration. We also could look at education, maybe agriculture, some of the areas which we can look at. His Excellency was very kind to exchange his views on those matters with me," he said.
Meantime, the Ambassador who was in St. Kitts and Nevis to present his credentials to the Governor General His excellence Sir Edward Lawrence said his country was proud to be associated with the Caribbean and the relationship they shared especially as it held the chairmanship of the Association of Caribbean States at the moment.
He said he was pleased to visit Nevis and S. Kitts and looked forward to working with the Federation. Ambassador Luis Manuel Lopez Moreno also stated that the President of Mexico His Excellency Enrique Peña Nieto planned to improve cooperation and deepen relations with St. Kitts and Nevis.