Minister Dwight Cozier sets record straight on robbery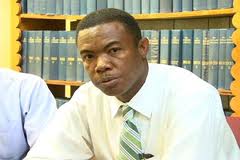 Charlestown, Nevis (Monday, September 4th, 2012)–
Minister of Trade and Industry in the Nevis Island Administration, Hon. Dwight Cozier has set the record straight on a robbery incident at Percy Jewelry store in Ramsbury, Nevis last Thursday during a Press Conference on Monday afternoon.
Mr. Cozier said while he was visiting the Percy's Jewelry Store and was engrossed in a conversation with proprietor Percy Browne and his wife Sonita, two persons entered the store pretending to be shoppers.
"The individuals proceeded to carry out an armed robbery of Percy's Jewelry Store. They were both dressed in very good disguise and I was there but I was unable to identify them," said Mr. Cozier.
After the ordeal, Mr. Cozier said that he proceeded to the law offices of Cozier and Associates next door, where he gave a detailed statement to the police.
"The police thanked me and said that my statement was very satisfactory and the matter would be under investigation. The police also provided me with a number if I thought that it was necessary to contact them," commented Mr. Cozier.
During the press conference, Hon. Cozier said that on Monday morning he was contacted via telephone about a news item on VON radio that was quite inaccurate and misleading.
Hon. Cozier said that since hearing the news item he had spoken with the Commissioner of Police, and he has requested a copy of the statement which he gave to the police and will bring the statement to the public.
"I decided that I would not only reserve my legal rights against VON radio, but I would call a press conference to alert the public to what really took place," Mr. Cozier said.
Following Mr. Cozier's statement, he took no questions from the media on the robbery ordeal since there is an ongoing investigation. He, however, fielded questions from the media on his new radio program "The People's Agenda" which will air every Monday from 8:00pm to 10:00pm on Choice Community radio 105.3FM.