Successive planning; professional development crucial to agriculture programmes success, says top Nevis agriculture official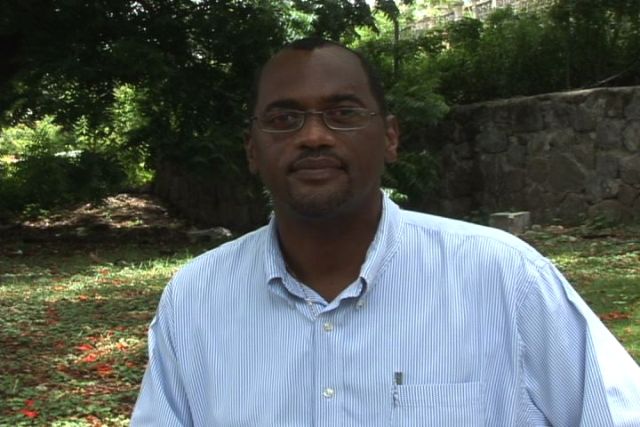 NIA CHARLESTOWN NEVIS (September 04, 2012) — Permanent Secretary in the Ministry of Agriculture Dr. Kelvin Daly believesthatprofessional development and successive planning were important factors critical to the success of programmes in the Ministry and Department of Agriculture.
He told the Department of Information in an interview on September 3rd, 2012, that both elements had received close attention since he joined the management team there first as the Director of Agriculture in the Department of Agriculture in 2006 and later in 2008 when he was promoted to Permanent Secretary.
"We believe at the Ministry that succession planning which is the idea of making sure that you have persons who take over in the absence or retirement of a senior person. Now this is critically important to the success of any programme. We have taken this endeavour quite seriously.
"Since 2006 we have embarked on serious training for our officers at the University of the West Indies, in Venezuela, ECAF in Trinidad and we have returned a number of persons successfully to the Ministry," he said.
In response to what prompted the movement towards training, Dr. Daly stated that there was a serious vacuum of trained officers in the Ministry. It was feared that someone outside the programme without the requisite knowledge of agriculture would have to run the programmes and that would not have led to a good conclusion and it was something he did not want to occur under his watch.
"So the top down leadership that I met at the Ministry when I came in 2006 was not a good model because you tend to leave out too many of the ideas of junior persons whose ideas, some quite good and tend to be put on the back shelf or put on the back burner because nobody takes it seriously.
"We believe in a more inclusive type of leadership where you have interaction from younger officers, senior officers and the Administration staff to come up with a sensible programme to move agriculture forward. So that is the whole idea about strengthening the Human Resource capacity, our professional development capacity to make sure those officers can make a meaningful contribution going forward," he explained.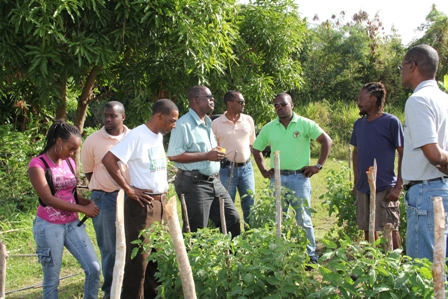 Dr. Daly also added that the idea behind training positioned to assist farmers and other clients with sound advice.
"Without training we cannot do that. You can't have an officer training out in the field knowing less than the farmers who they are trying to advice. So we are not fearful of anybody being replaced but we are more fearful of not having the leadership capacity in the event of a retirement or somebody promoted out of one position into a next.
"So since 2006 we have sent off several officers and we are in the process of sending off four more to a new programme in St. Kitts at Clarence Fitzroy Bryant College (CFBC), which is affiliated with the University of Florida. Four young officers from the Department will be going there starting today [Monday September 3rd], as a matter of fact today is their first day," he said.
The Permanent Secretary in Agriculture also spoke to staff who had gone to study overseas in various fields of agriculture and had returned to make their contributions and others who were still training overseas.
"Over the years since 2011 we have returned Dr. Ambrose James from Trinidad, he is a Doctor of Veterinary Medicine now. He left in 2007 and he is now back. We have returned Mr. Randy Elliot he has a Masters in Science. We have returned Mr. Quincy Bart also he is doing a Bachelors [degree] in Science. We have returned Mr. Kelso Clark he did an Associate's Degree in Venezuela.
"Mr. Floyd Liburd is in the process of completing his Bachelors at the University of Guyana and Mr. Dwight Browne is at the University of the West Indies doing a Bachelors degree in Food Technology. We have also Ms. Kamara Louisy, she is also doing a Doctor of Veterinary Medicine and she will finish in 2015. So we have been very lucky," he said.
Notwithstanding, Dr. Daly said the Ministry was facing a peculiar situation since many of its officers were out studying which he believed augured well for the future of Agriculture on Nevis.
"I think the majority of our officers are now away from the office doing studies. It's a kind of strange scenario but it is something we believe in that is necessary for us to move forward as an institution and to do so successfully.
"So I wish all the officers who are studying well and I know the precedence has been set. We have officers in the past and I refer to the Hon. Robelto Hector, who went through the system some years ago and we have Mr. Eric Evelyn our Communications Officer who also went through [The Eastern Caribbean Institute of Agriculture and Forestry] ECAF," he said.
Dr. Daly also added that the bar had been set high in ensuring that officers were trained in the area of agriculture and one thing that had encouraged officers who were at present studying to do well, was the success of those who had gone before.
"None of us has failed so far, so the onus is on them the younger officers to make sure that they ring a continued good reputation of Nevisian students studying abroad," he said.